The Apocalypse. Nuclear Holocaust. We cold-war babies grew up with the concept. In fourth grade it was "duck and cover" and survival skills that included wiping nuclear fallout off canned good before opening and consuming them. Right. Okay. Got it. Then there was the Bay of Pigs and the Cuban Missile Crisis, when teachers had us write our names in our clothes so that if we were nuked while walking home from school our bodies could be identified (we lived at the bottom of a hill, less than a mile from a strategic site). Yup. Got that too.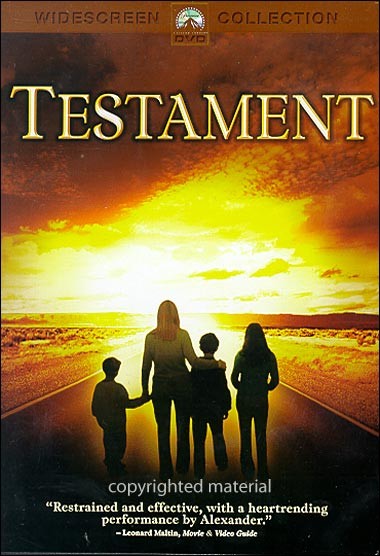 It all seems so silly now. But those times spawned a generation of classic films, some a lot better than others, but all eminently entertaining (and some still downright scary)!
At the top of my list is Testament. It didn't get wide play, so I am continually surprised at how many people know this film.
Testament is understated. It doesn't have the huge explosions, the mushroom clouds and the flattening of buildings. It's much subtler. Ordinary people, ordinary families, going about their lives. It all changes in a flash. Literally. A quick burst of emergency warnings, a brilliant light, and the world changes forever.
«Read the rest of this article»