Topic: Charles Moreland
Clarksville, TN – The Montgomery County Democratic Party gathered at the Smith Trahern mansion on December 11 to celebrate Christmas and to honor local volunteers and Montgomery County's statesmen for their service.
State Senator Tim Barnes received a plaque noting his service to the party and to his Montgomery County constituency over the past four years. The party also recognized State Representatives Joe Pitts and John Tidwell who will both continue the elected offices.
«Read the rest of this article»
Democratic candidate for State House District 68, Brett Ramsey, reached a campaign milestone Tuesday, August 3rd, when Team Ramsey knocked on their 3,000th door.  With well over 100 hours of going door to door in this heat, Brett gives the team credit, "We've been lucky enough to have several helpers…Brian Martinez, Tony Willis, Phillip Sparn, Rob Rose, Ryan Knight, Joann Latz, Charles Moreland, and Jennifer Baldwin have helped immensely.  It almost goes without saying, but Jess (his wife) is indispensable to the campaign, and none of this would happen without her."  Brett added that people have offered him water, cool air – "I really appreciate their hospitality."
Brett is finding the campaign trail to be a rich and rewarding experience.  "It's essentially several thousand job interviews, and I would guess there's not many more humbling experiences in this world," said the Democratic candidate.  On first Saturdays of each month, he does find time to enjoy the shade in local parks, where he makes himself available to the folks in the district.   Check his facebook page out to find his schedule.
If you are unsure which House district you are in, I have provided a link below to help you out, as well as links to Brett's facebook page and campaign website.
Links:
http://www.capitol.tn.gov/districtmaps/
http://www.facebook.com/profile.php?id=1633287071&ref=ts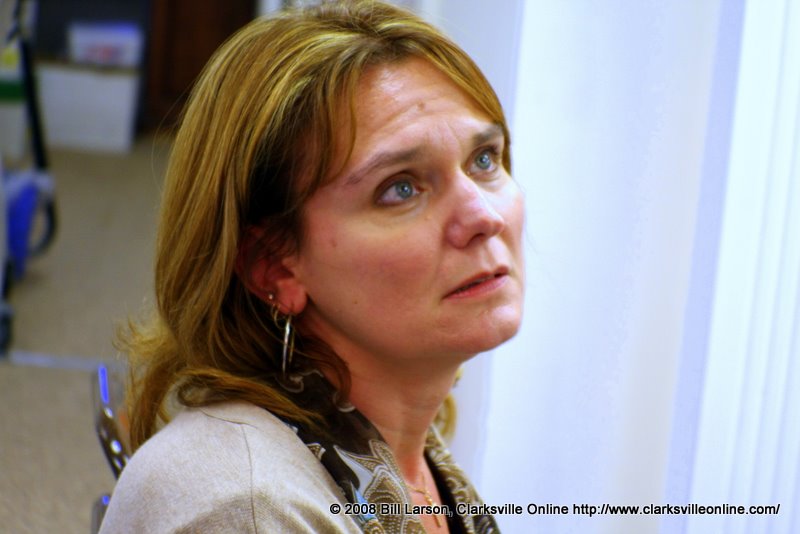 Pre-presidential debate event is well attended with diverse community population. Hispanic/Latino community activists speak out on election, progress, and issues facing all voters.
The Montgomery County Democratic Party Headquarters, 534 Madison Street, served as the host site for the Latinos For Obama House Party. As a prelude to the 2nd presidential debate, the gathering was a well attended affair that drew participants from beyond just the Latino/Hispanic community.
Fabian Bedne, an architectural engineer, was the guest speaker for the event. Bedne is a founding member and President of the Middle Tennessee Hispanic Democrats, founding member of the Middle Tennessee Chapter of the National Association of Hispanic Real Estate Professionals, the Tennessee Hispanic Voters Coalition PAC, and member of the Executive Committee of the Davidson County Democratic Party.
Bedne has been featured various times in news print, television and recently spoke to Latino Democrats from around the country as an Obama delegate to the Democratic National Convention.
«Read the rest of this article»

Local fund raiser highlighted by enthusiastic crowd and lively speakers. Montgomery County Democratic Party partners with Clarksville for Obama to stage the event. Democratic State Senate District 22 nominee Tim Barnes shares in event spotlight.
Clarksville for Obama, with an assist from the Montgomery County Democratic Party, held a fund raiser Thursday night  at the IAM Local # 129 Union Hall on 1296 Union Hall Rd.
U.S. Senate Candidate Bob Tuke and Senate District 22 candidate Tim Barnes were among the guest speakers, a roster that included candidates for state and national offices on the November ballot, and representatives of both the Democratic Party and Labor Unions.  Approximately 155 people attended the event.
Gene Lewis, MCDP chair, stood in for Kim McMiillan, who was unable to attend, as moderator for the event. He introduced each of the program's speakers to address the gathering.
Bob Tuke (center, left), candidate for 7th US Senate District, commended Clarksville for Obama and the Montgomery County Democratic Party. He praised the county for its strong Democratic Party tradition. He additionally hailed State Senate District 22 nominee Tim Barnes.
Tuke then cited Senator Barack Obama as a "great candidate" and declared he would make a fantastic president. He declared the current financial crisis, "is not an accident, it isn't cyclic. It's the result of mismanagement." He noted that "President Obama" will need a supportive Senate and that means having at least sixty democratic votes in the Senate. «Read the rest of this article»
Special Convention assembly votes 61 – 4 for Attorney Tim Barnes to be Party nominee on November ballot. Rosalind Kurita was a no-show at special party vote gathering. Silence protests staged outside the voting hall.
Delegates gather for the convention.
In a crowded room at the Riverview Inn, the controversial September 13 decision of Tennessee State Democratic Party Executive Committee to invalidate the August Primary election was carried out via a tri-county democratic convention convened to decide which of two candidates appear on the November ballot.  In this special called convention, sixty-five county delegates decided the Democratic Party nominee of State Senate District 22 for the November ballot. With a roll call vote, 61 delegates pledged their vote to challenger Atty. Tim Barnes, with four votes going to incumbent State Senator Kurita.
Approved delegates from Cheatham, Houston and Montgomery counties totaled eighty-two. The sixty-five credentialed delegates in attendance satisfied the requirement for a quorum. Senator Rosalind Kurita, herself a delegate, did not attend the proceedings. Tim Barnes, also a delegate, did. The standing-room only proceedings were convened on time (at 7:30 p.m.), orderly, and without outbursts or protests being voiced. There was a rotating silent protest just outside the hotel as a single protester held a sign objecting to the convention. A half dozen television cameras and numerous media photographers were present to document this breaking news story.
«Read the rest of this article»
"Clarksville for Obama" joins in nation-wide social networking to grow the "Obama for Change" campaign.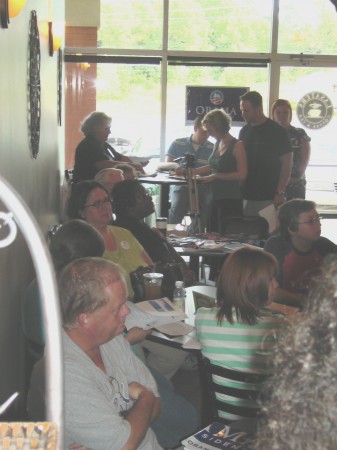 Saturday afternoon saw "Clarksville for Obama" execute their community event in participation with the nation-wide June 28th community event for the "Obama for President" campaign.
Senator Barack Obama's approach to presidential campaigning is predicated on having small citizen groups form within their own communities and build support bases from the community level up to the national organization through social networking.
Speaking for "Clarksville for Obama," Tyrone Taylor said:
"This grassroots organizing is at the heart of the Obama campaign. These small groups are being empowered to conduct and be responsible for the growth of this process."
This phenomenon was in evidence Saturday as some 50 people gathered and gave voice to their reasons for joining the "Obama for President" campaign. "Clarksville for Obama" utilized social networking tactics to contact friends, associates and potentially interested persons to invite them to attend the rally event. Emails, phone calls, text messaging, postings to MySpace and Facebook were all tactics employed to make contact and encourage people to come out. By the size of the crowd, they were quite successful in their efforts.
«Read the rest of this article»
The Montgomery County Democratic Party heard from several candidates in upcoming elections. Voter registration rally great success.
Tuesday night, the Smith-Trahern Mansion played host to the monthly meeting of the Montgomery County Democratic Party.
Delina Starr gave a report of the June 14th South Guthrie voter registration and candidate rally. Thanks was given to the support effort that came together to stage the rally. The rally was held at the historic Guildfield Baptist Church and lasted into the early evening hours.
After Starr finished her report, the attendees heard from several candidates or their designated representatives including Tim Barnes campaign manager Kim Smith, Senate District 22; Robert Hunt, County Assessor Office; and Althea Jack, campaign manager for Senator Rosalind Kurita, District 22; and U.S. Senate candidate Kenneth Eaton.
Introducing one of the Democratic challengers to US Senator Lamar Alexander, Nashville author Dean Mitchell, spoke of refuting the Republican Party's claim of its platform being based on Christian principles found in The Bible. He has authored a book which directly challenges this contention and debunks the falsehood the claimed biblical  references advanced from GOP spokespersons. «Read the rest of this article»