Democratic candidate for State House District 68, Brett Ramsey, reached a campaign milestone Tuesday, August 3rd, when Team Ramsey knocked on their 3,000th door.  With well over 100 hours of going door to door in this heat, Brett gives the team credit, "We've been lucky enough to have several helpers…Brian Martinez, Tony Willis, Phillip Sparn, Rob Rose, Ryan Knight, Joann Latz, Charles Moreland, and Jennifer Baldwin have helped immensely.  It almost goes without saying, but Jess (his wife) is indispensable to the campaign, and none of this would happen without her."  Brett added that people have offered him water, cool air – "I really appreciate their hospitality."
Brett is finding the campaign trail to be a rich and rewarding experience.  "It's essentially several thousand job interviews, and I would guess there's not many more humbling experiences in this world," said the Democratic candidate.  On first Saturdays of each month, he does find time to enjoy the shade in local parks, where he makes himself available to the folks in the district.   Check his facebook page out to find his schedule.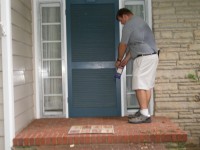 If you are unsure which House district you are in, I have provided a link below to help you out, as well as links to Brett's facebook page and campaign website.
Links:
http://www.capitol.tn.gov/districtmaps/
http://www.facebook.com/profile.php?id=1633287071&ref=ts