"Clarksville for Obama" joins in nation-wide social networking to grow the "Obama for Change" campaign.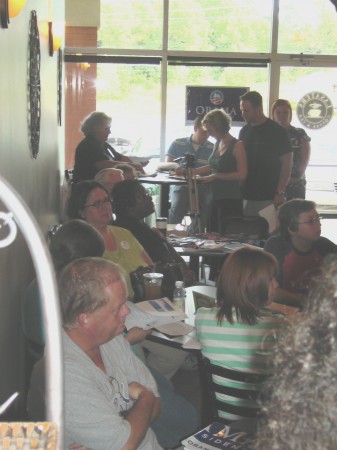 Saturday afternoon saw "Clarksville for Obama" execute their community event in participation with the nation-wide June 28th community event for the "Obama for President" campaign.
Senator Barack Obama's approach to presidential campaigning is predicated on having small citizen groups form within their own communities and build support bases from the community level up to the national organization through social networking.
Speaking for "Clarksville for Obama," Tyrone Taylor said:
"This grassroots organizing is at the heart of the Obama campaign. These small groups are being empowered to conduct and be responsible for the growth of this process."
This phenomenon was in evidence Saturday as some 50 people gathered and gave voice to their reasons for joining the "Obama for President" campaign. "Clarksville for Obama" utilized social networking tactics to contact friends, associates and potentially interested persons to invite them to attend the rally event. Emails, phone calls, text messaging, postings to MySpace and Facebook were all tactics employed to make contact and encourage people to come out. By the size of the crowd, they were quite successful in their efforts.
Event spokesperson Terry McMoore told the group that the Obama campaign" is a digital campaign!" Senator Obama intends to utilize modern technology as never before, with text messaging and MySpace postings as two of the tools by which this campaign will distinguish itself from past campaigns and him from other candidates.
Despite this embracing of new technology, there are still some vestiges of more traditional campaigning. The team expects to have a central headquarters from which to conduct its concerted efforts for the November election.
JoAnn Latz, another "Clarksville for Obama" member, said with that development, volunteers are needed for phone bank calls, organizing more neighborhood gatherings, and canvassing and voter registration efforts, all of which are slated to become part of the push to November and a victory for Senator Obama. Clarksville for Obama has been recognized by the national campaign as the 'formal' Obama campaign organization for Clarksville and Montgomery County.
Volunteers willing to host house parties were solicited. Names were given for volunteer campaign advancement activities like staffing the soon-to-be open campaign headquarters, making phonecalls to potential supporters, local fundraising, writing articles and letters to the local media, debunking smear attempts, and just talking with co-workers and neighbors to urge their support for the Obama campaign as well.
The group watched a video of Senator Obama as part of the synchronized nation-wide rally event. Several people spoke of their reasons for supporting the Obama campaign. There was an agreed upon sentiment that, upon hearing him speak, people became convinced of his sincerity and true compassion for the concerns of everyone he encounters.
Jim Robertson said he came to support Senator Obama because of his concerns with health care. His wife has muscular dystrophy and when the new Medicare Prescription Bill took effect, her prescription costs shot way-y-y up. He himself has arthritis and is unable to get health insurance. He was facing a medical procedure and had sought insurance only to learn that the insurance rate quoted him was twice the cost the medical procedure itself.
Charles Moreland spoke of 'The Unity Project,' and the "Prayer Warriors for Obama," which seeks to garner the power of the 'prayer warriors' of the Democratic Party flock, and have them pray for Senator Obama's success in becoming president. He said "People need to realize that Christians are Democrats too, and that we also pray." He showed the template of a brochure which will be available within a week for distribution by individuals or groups.
Debbie Boen attended wearing her "Republicans for Obama" pin. She started the group, Clarksville Freethinkers for Peace and Civil Liberties in late 2004. She said that for her it is not about what party you belong to and that Democrats, like Republicans, have to remember that we're all in this together. She is dismayed with the smear-style tactics (like Obama/Osama) being practiced by Republicans because the tactic only makes people look stupid. She said it's just not a basis for a good argument. These tactics are harmful to Republicans because people have come to distrust them and all those who engage in these tactics. She believes there are plenty of serious issues that demand our attention:  the environment, escalating gas and oil prices, natural resources and how we use them and "the war, the war, the war, the war."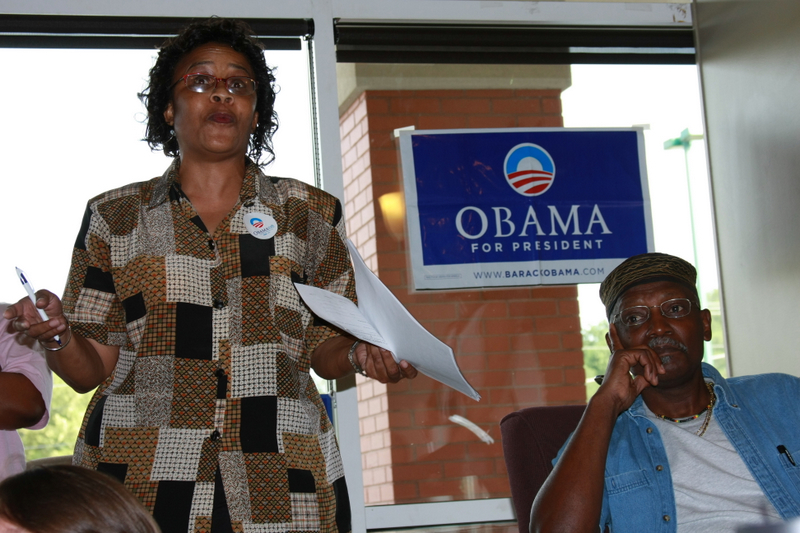 Disgruntled voters from all walks of our political process were urged to consider the candidacy of Senator Obama. "Clarksville" said that theirs is an outreach open to independents, Blue Dog Democrats, Reagan Democrats, compassionate conservatives disillusioned by the Republican Party and this administration, GOP faithful not in sync with their party's positions, and anyone who has been looking for change, for the betterment of our society and our nation and has found themselves not satisfied. Voters seeking a change for a better time in America should find themselves moving to the Obama team, according to "Clarksville for Obama."
Clarksville for Obama announced their new website will be launched within a week or ten days. For more information on the current level of activity and full color story, visit: https://www.clarksvilleonline.com/2008/06/23/join-the-unite-for-change-unite-for-change-campaign