Topic: Sen. Barack Obama
Grant Park, Chicago, Illinois was the setting for Sen. Barack Obama, now President-Elect Obama, to offer the world his acceptance speech upon winning the race to the White House in November 4 election. This is a unedited transcript of his speech:
Hello, Chicago.
If there is anyone out there who still doubts that America is a place where all things are possible, who still wonders if the dream of our founders is alive in our time, who still questions the power of our democracy, tonight is your answer.
It's the answer told by lines that stretched around schools and churches in numbers this nation has never seen, by people who waited three hours and four hours, many for the first time in their lives, because they believed that this time must be different, that their voices could be that difference.
https://www.youtube.com/watch?v=FrXkBuWNx88
The first segment of Obama's acceptance speech.
«Read the rest of this article»
Politics got ugly in Clarksville Saturday, October 25, as at least one McCain/Palin campaigner chose to take the low road, politicking curbside at Veteran's Plaza Election near the Election Commission office where hundreds of people arrived to vote between 8 a.m. and noon.
One male Caucasian McCain/Palin campaigner donned an Obama Halloween mask, of and by itself not a big deal, but then attached a hand-printed cardboard "Hamas for Obama" sign perpetrating a lie and creating an implication of terrorist ties to presidential candidate Sen. Barack Obama. On the flip side of the sign are the words "Honk for Socialism NoBama."
Debating the issues, building an case for a candidate rooted in facts, is one thing. This kind of ill-informed misinformation and dis-information starts with the word "stupid," meanders into "childish," and continues with "dangerous" and "malicious." Where it ends remains a question mark. «Read the rest of this article»
As early voting opened in Tennessee to heavy turnouts, Senator McCain's promised thumping of Senator Obama didn't materialize. Groups gathered at both local Republican and Democratic party headquarters to watch the debate, discuss their preferences and hear the candidates present their proposals.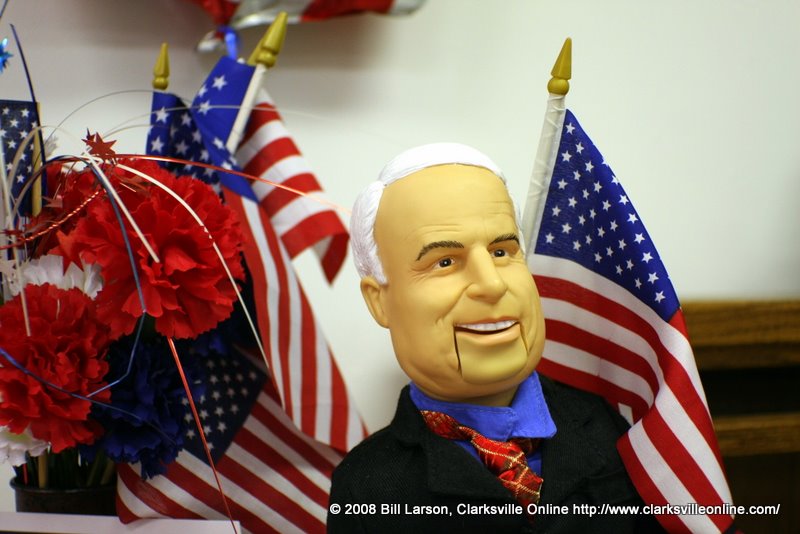 The final candidates debate of the 2008 presidential election season was a much anticipated showcase of America's choices for leadership for the next four years. The debate's focus was to be on domestic policy, with the recent upheaval in the financial markets to be a focal point. The level of negative ads has increased to  near crescendo as McCain's campaign unleashed new charges and the Obama campaign refuted falsehoods and returned the fire to McCain. The debate was supposed to offer a clear demonstration of McCain's superiority to Obama. Sadly, for McCain, the smear adhesive didn't stick.
Viewers were treated to a consistent presentation of proposals and ideas from Obama as he responded to  McCain's attempts to hang negatives.
Obama noted that McCain's own campaign said publicly last week that, "if we keep on talking about the economic crisis, we lose, so we need to change the subject." Such was the tone for the course of the evening. «Read the rest of this article»
When the BBC Election Bus pulled into Clarksville, its first news stop was the Montgomery County Democratic Party headquarters on Madison Street, where a steady stream of area resident surged in and out, registering to vote and picking up Obama/Biden signs from a rapidly depleting stockpile (more signs due in Tuesday, October 7).
The BBC Election bus originated its trip in Los Angeles, and is working its way across middle America, talking to everyday Americans and catching the Presidential and Vice-presidential debates along the way. The bus trips end on Long Island, but the teams will continue to feed political news through the election on November 4.
MCDP Chairman Gene Lewis, State Senate Candidate Tim Barnes and Clarksville for Obama Chairman Terry McMoore welcomed the BBC team to Clarksville. «Read the rest of this article»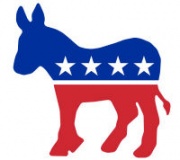 Folks from several middle and western Tennessee counties gathered at the Dover home of Jim and Nan Robertson for a "house party" and fundraiser in support of the presidential bid of Senator Barrack Obama. The late afternoon event filled their home and garden with friends, local candidates, and legislators, all ready to voice their support for Senator Obama.
District 75 Rep. Willie Butch Borchert addressed the crowd, urging his constituency to support change in government by voting Democratic and "supporting Obama," adding that the McCain/Palin Republican ticket would be a vote for more of the same "Bush administration" politics.
Church-State watchdog group criticizes religious right lawyers for luring congregations into intentional violation of federal tax law
Americans United for Separation of Church and State today filed complaints with the Internal Revenue Service about six churches whose pastors endorsed candidates from the pulpit during a mass defiance of federal tax law last Sunday.
The Alliance Defense Fund (ADF), a Religious Right legal group in Scottsdale, Ariz., urged pastors to defy federal tax law by endorsing or opposing candidates during a so-called "Pulpit Freedom Sunday" Sept. 28. Under the IRS Code, churches and other 501(c)(3) tax-exempt groups may not intervene in elections.
"These pastors flagrantly violated the law and now must deal with the consequences. This is one of the most appalling Religious Right gambits I've ever seen. Church leaders are supposed to tend to Americans' spiritual needs, not behave like partisan political hacks. I urge the IRS to act swiftly in these cases." ~~ Rev. Barry W. Lynn, executive director of Americans United.
Lynn also scored the ministers who took part in the ADF gambit. «Read the rest of this article»
In response to John McCain's decision to return to suspend campaigning and return to Washington, his request to postponed the scheduled Sept. 26 debate in Oxford, Mississippi, and in response to the fiscal crisis and a proposed $700 million bail out, Senator Barack Obama spoke out on the issues at a Press Conference Wednesday afternoon. We offer our readers a replay of Obama's statement.
https://www.youtube.com/watch?v=h9PGP3m2hSo
BREAKING NEWS: John McCain this afternoon announced he was suspending his campaign to focus on the economic crisis in America and has requested that the Sept. 26 debate be rescheduled.
President Bush to address nation at 8 p.m. CST.
McCain's decision is a complete about-face from his prior statements  that the United States economy is "fundamentally sound." This is John McCain's statement, released at 3 p.m. today.:
America this week faces an historic crisis in our financial system. We must pass legislation to address this crisis. If we do not, credit will dry up, with devastating consequences for our economy. People will no longer be able to buy homes and their life savings will be at stake. Businesses will not have enough money to pay their employees. If we do not act, ever corner of our country will be impacted. We cannot allow this to happen.
Last Friday, I laid out my proposal and I have since discussed my priorities and concerns with the bill the Administration has put forward. Senator Obama has expressed his priorities and concerns.This morning, I met with a group of economic advisers to talk about the proposal on the table and the steps that we should take going forward.I have also spoken with members of Congress to hear their perspective. «Read the rest of this article»
Cindy Pitts, motivational speaker, leads list of esteemed speakers for Women Suffrage 88th Anniversary Commemoration
Clarksville Women for Obama will mark the 88th anniversary of the passage of the 19th Amendment, which gave American women the right to vote , with a commemoration program on Friday, September 26, at 7 PM at the Montgomery County Democratic Party headquarters, 534 Madison Street. The program features a roster of local women speakers.
Cindy Pitts, motivational speaker and wife of State Representative Joe Pitts, will headline the anniversary commemoration. Other esteemed speakers joining this event are LaVerne Walker, Equal Opportunity Activist and Elizabeth Adamski of H.O.P.E. (Hispanic Organization for Progress and Education).
The commemoration anniversary is open to the public. This event is the forerunner to the University of Mississippi Presidential Debate Watch Party. For more information, call 931-552-9076 or visit the website at: <www.ClarksvilleForObama.com> Refreshments will be served. Volunteer food and soft drink donations will be appreciated.
With two presidential debates being staged in the South, southern universities are being given unprecedented national exposure. The October 7 Presidential Debate will mark Belmont University and Tennessee's elevation onto the presidential election stage.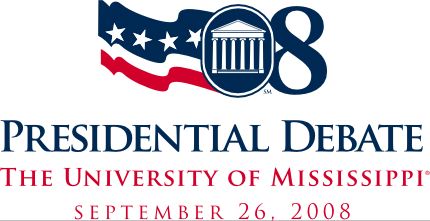 The evening of September 26 will be a busy one with two important political events in Montgomery County. The Women For Obama 19th Amendment Anniversary House Party will be followed by the 1st Presidential Debate Watch Party.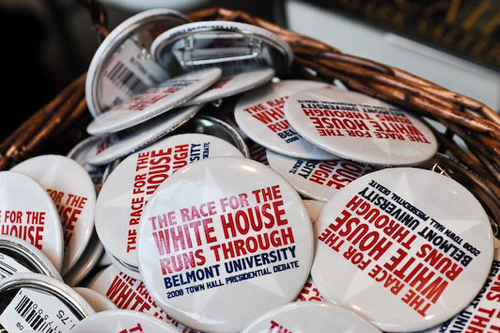 This year's Presidential Debate at the University of Mississippi marks an historic development in U.S. presidential elections political history. This is the first time for the staging of a presidential debate in the state of Mississippi.
Senator Barack Obama and Senator John McCain will appear live to debate issues of concern to the American public in Ole Miss' Gertrude C. Ford Center in Oxford, Mississippi. The debate will be moderated by Jim Lehrer, executive editor and anchor of The NewsHour on PBS. This debate will focus on foreign policy and national security. «Read the rest of this article»