Topic: Liane Wilson

Clarksville, TN – Hailie Latham was recognized by the Clarksville Police Department in front of her classmates at Moore Magnet Elementary School for her decisive actions during an emergency situation.
On March 30th, 2019, around 9:24am, Hailie Latham was a passenger in a Ford F150 traveling south on Rossview Road when her mother, Carolyn Latham, lost consciousness.
«Read the rest of this article»
Polar Plunge at APSU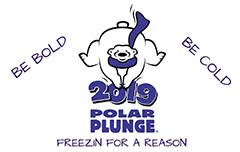 Clarksville, TN – Dozens of brave souls signed up for this year's Polar Plunge, which was held Saturday at Austin Peay State University's Foy Fitness and Recreation Center Pool. Spectators enjoyed a very eclectic costume contest, followed by teams and individuals diving into the chilly water, all to support Tennessee Special Olympics.
'Plungers' who raised money for the cause were rewarded for their fund-raising efforts with post-plunge pizza. Some prizes were awarded for costume contest winners, as well as outstanding fund-raising achievement.
«Read the rest of this article»
Clarksville Police Department

Clarksville, TN – Clarksville Mayor Kim McMillan and Clarksville Police Chief Al Ansley promoted four officers to key leadership positions Thursday, August 30th, 2018 during a standing-room-only ceremony at Freedom Point.
"This is a great day for our City and the Clarksville Police Department," Mayor Kim McMillan said. "Each of these officers has been with the department for at least a decade, and it's a testament to our talent and training that these fine officers are moving up into senior leadership positions."
«Read the rest of this article»

Clarksville, TN – The Clarksville Police Department is pleased to announce the recent graduation of Lieutenant Liane Wilson from the prestigious School of Police Staff and Command (SPSC) at Northwestern University.
Lieutenant Wilson recently graduated the grueling 10 week program hosted in Nashville, TN. Lieutenant Wilson joins an elite alumni of graduates comprised of thousands of leaders from all over the world, many who hold Chief of Police positions.
«Read the rest of this article»

Clarksville, TN – On Thursday, February 20th, the Clarksville Police Department  put out a public request seeking information and identity of a person  ripping parking meters out of the sidewalks in downtown Clarksville and removing the change.
Lt. Liane Wilson, from the Clarksville Police Department, recognized the subject in the pictures provided in the initial News Release.
«Read the rest of this article»

Clarksville, TN – On Friday, May 31st, 2013 the Clarksville Police Department training room was filled with friends and family to celebrate the promotion of five members of the Clarksville Police Department.
As a family member pinned their new badge on each recipient, Chief Al Ansley proudly announced that Sergeant Ty Burdine and Sergeant Liane Wilson will now hold the rank of Lieutenant.
«Read the rest of this article»