Polar Plunge at APSU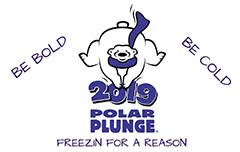 Clarksville, TN – Dozens of brave souls signed up for this year's Polar Plunge, which was held Saturday at Austin Peay State University's Foy Fitness and Recreation Center Pool. Spectators enjoyed a very eclectic costume contest, followed by teams and individuals diving into the chilly water, all to support Tennessee Special Olympics.
'Plungers' who raised money for the cause were rewarded for their fund-raising efforts with post-plunge pizza. Some prizes were awarded for costume contest winners, as well as outstanding fund-raising achievement.
This year's costume contest winner was Brad Forbis who was dressed as a Mardi Gras-inspired King Baby. His daughter Ruby Kate got in on the fun as well, donning a Bat Girl costume.
"I'm here doing this in honor of my Aunt Melanie," Forbis said. "She has Down's Syndrome. When she was younger she participated in Special Olympics in North Carolina. She is now battling advanced stages of dementia. This is a way for me to honor her one last time, before she goes to be with the Lord."
Forbis was one of this year's top fund-raisers, bringing in more than $1,300. The top fund-raiser for the 2019 Polar Plunge was Clarksville Police Department Captain Liane Wilson, who raised a total of $1,511.62.
Tennessee Special Olympics V.P. of Marketing and Development, Amy Parker made the announcements.
"I want to thank everyone for being here," Parker said. "Whether as a volunteer, a 'plunger', or as a supporter in any way. Thank you all for freezin' for a reason. This year's plunge has raised more money than the last four plunges in Clarksville combined. We set a goal of $10,000, and I'm happy to tell you that we have already surpassed that goal."
One of the big story-lines of the day was CPD Chief Al Ainsley. He agreed to dive in wearing his full uniform if he reached a personal goal of $500.00. He met that goal, and was one of the first ones in the pool on Saturday.
"It all started back in November with conversations centered on trying to find a location," Parker said. "APSU has been an incredible partner. Thanks to them for letting us use this space. And Clarksville Police Department really started the ball rolling with their advertising, marketing, and fund-raising efforts. They showed up in a big way. They had more than ten 'plungers' on their team, and they had this year's top individual fund-raiser."
CPD Officers stepped up in another heart-warming way on Saturday.
"These officers also, and this meant a lot to me, helped a Special Olympics athlete take today's Polar Plunge," Parker said. "Lee Giles, from Clarksville, has some mobility issues. His mother wanted to let him plunge, but was concerned about being able to physically get him out of the pool. That's when the folks from CPD stepped up and said they would stay in the pool and do whatever they had to do to make this possible for Lee. That moment was quite beautiful. This was a great day for the community."
Photo Gallery