Topic: looting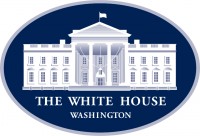 Washington, D.C. – "How the hell can Americans sit back and watch as gangs of dangerous extremists maraud through our cities—burning buildings, throwing rocks, bottles and explosives at police, and attacking the elderly?" Frank Miele writes in RealClearPolitics.

"Why make excuses for the bullies or justify their violence? Looting is wrong. Vandalism is wrong. Lawlessness is wrong. Yet too many people will not say so."
«Read the rest of this article»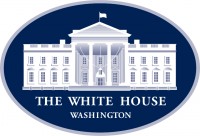 Washington, D.C. – President Donald Trump signed a memorandum yesterday to hold local politicians accountable for refusing to protect their communities from ongoing riots, lootings, and mass property destruction.

Per the memo, Federal agencies will identify what funds are provided to Seattle, Portland, New York City, and other jurisdictions that have allowed violence, lawlessness, and property damage to persist.
«Read the rest of this article»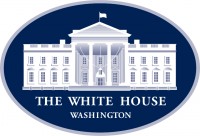 Washington, D.C. – "President Donald Trump said Wednesday he will send federal troops into Kenosha to assist local law enforcement after a third night of violence in the Wisconsin city left two people dead," Meghan Roos reports in Newsweek.

"We will NOT stand for looting, arson, violence, and lawlessness on American streets. My team just got off the phone with [Wisconsin Governor Tony] Evers who agreed to accept federal assistance," the President tweeted yesterday.
«Read the rest of this article»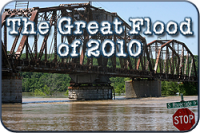 Rivers Side Drive re-opened at 4:45pm today making the last major traffic artery in Clarksville, TN to be closed by the Great Flood of 2010 available to the public once again. The road has been the subject of intensive attention by the Tennessee Department of Transportation and the City of Clarksville's Street Department from the moment it emerged from the receding flood waters. The road had been kept closed partially to give business owners time to remove flood debris from their businesses, and the city time to remove it from the roadside.
While the curfew in the area is no longer in effect, the Clarksville Police Department will be conducting extra Patrols along Riverside Drive to prevent looting. There were two instances of attempted looting during the flooding, one at the Rhino Mart and the other at Riverside Pro Archery.
«Read the rest of this article»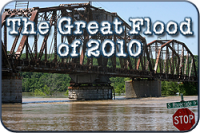 A robber attempted to break in through the front door of the Riverside Pro Archery store late last night. The robber failed, but it would not have mattered anyway, since everything had already been removed by the owner.
It is sad that others would try to take advantage of this disaster. Business owners and residents should be aware that as flood waters recede, there will be more robbery and looting attempts. If any activity is seen, please call the Clarksville Police Department at (931) 645-7480. «Read the rest of this article»