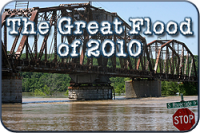 Rivers Side Drive re-opened at 4:45pm today making the last major traffic artery in Clarksville, TN to be closed by the Great Flood of 2010 available to the public once again. The road has been the subject of intensive attention by the Tennessee Department of Transportation and the City of Clarksville's Street Department from the moment it emerged from the receding flood waters. The road had been kept closed partially to give business owners time to remove flood debris from their businesses, and the city time to remove it from the roadside.
While the curfew in the area is no longer in effect, the Clarksville Police Department will be conducting extra Patrols along Riverside Drive to prevent looting. There were two instances of attempted looting during the flooding, one at the Rhino Mart and the other at Riverside Pro Archery.
Some businesses have already re-opened including: the Exxon Station at 1361 College Street; the NAPA Auto Parts located at 786 North Second Street; Sonic located at 701 North Riverside Drive; Waffle House located at 734 North Riverside Drive; The Automotive side of Bill Roberts Automotive & Marine located at 997 South Riverside Drive, more on that in a minute; O'Reilly Auto Parts located at 1029 South Riverside Drive; the Riverside Super Laundromat located at 1049 South Riverside Drive; Dairy Queen located at 1055 South Riverside Drive; And the Shell Sudden Service Station located at 1070 South Riverside Drive.
Other businesses have temporarily relocated including: Town and Country Drugs, which has opened up a temporary location at 428 Madison Street;  the Marine side of Bill Roberts Thunder Road Automotive & Marine is operating out of 2064 Wilma Rudolph Blvd; The Salvation Army has a temporary warehouse which can accept donations for flood victims at 600 C. Cumberland Drive; BFS Insurance Group customers can be serviced at their other location at 1545 Madison Street.
Volunteers are still needed
Even through Riverside Drive has re-opened many businesses still are in dire need clean-up assistance. By volunteering at a local business or home affected by the flooding you can help them put their lives back into order. Hardware City even has a sign up by Riverside Drive soliciting volunteer assistance from passersby They really do need your help.
Even if you can't volunteer, you can help affected businesses by patronizing them when they re-open. Not only are they bearing the cost of the cleanup, but they also have been closed for over a week as of this point. So consider going to eat a burger at Dairy Queen, Buying a Car or boat at Bill Roberts Automotive & Marine, getting auto parts at O'Reilly's Auto Parts, checking on Insurance deals with the BFS Insurance Group, or doing business with any of the other businesses as they re-open.