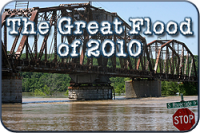 A robber attempted to break in through the front door of the Riverside Pro Archery store late last night. The robber failed, but it would not have mattered anyway, since everything had already been removed by the owner.
It is sad that others would try to take advantage of this disaster. Business owners and residents should be aware that as flood waters recede, there will be more robbery and looting attempts. If any activity is seen, please call the Clarksville Police Department at (931) 645-7480.
Do not be a victim
Please call the Clarksville office of the Better Business Bureau if you want to check out a company soliciting your business after the flood. The phone number is 931-503-2210 or 1-800-989-4222. There is also a 24 hour hot line which is 615-242-4222. You can also go to their website at www.nashville.bbb.org, click on "Check out a Business" or you can click on "Find a BBB accredited business".
The BBB also suggests people to go to the TN Division of Consumers Affairs web site at http://www.tn.gov/consumer. This web site will also provide a "Buyer's Beware List". Their phone number is 615-741-8307 but they are currently not able to work due to flooding and power outages. The BBB also suggests hiring only people that are local or are listed in the phone book. "Storm Chasers" are people that follow storm damage from other states and may be unreliable.
Sections
News
Topics
Better Business Bureau, looting, robbery, The Great Flood of 2010