Topic: Middle Tennessee Mayors Caucus
Mayors Caucus supports IMPROVE Act
Nashville, TN – Clarksville Mayor Kim McMillan joined several Middle Tennessee mayors on Tuesday to urge state legislators to support Tennessee Governor Bill Haslam's IMPROVE Act and the bill's local option allowing communities to choose their own public transit investments.
Mayors from six counties and cities, representing the Mayors Caucus, called on legislators to show support for the act, which will fund a major backlog of road projects statewide and provide a path for traffic relief in Middle Tennessee.
«Read the rest of this article»
Clarksville, TN – Clarksville Mayor Kim McMillan was elected co-vice chair of the Middle Tennessee Mayors Caucus as the regional partnership of mayors and county executives met this week to choose officers and endorse state action on transportation funding.
The caucus also elected Williamson County Mayor Rogers Anderson as its new chairman and Metro Nashville Mayor Megan Barry as a co-vice chair.  Anderson steps into the position held by Franklin Mayor Ken Moore for the past three years.
«Read the rest of this article»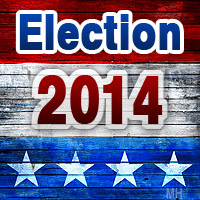 Clarksville, TN – Tomorrow, Tuesday October 3rd, is Tennessee's General Election. Ballots will be cast on a range of offices and issues. Clarksville will also be electing the Mayor for the next four years. The candidates are Mayor Kim McMillan, City Councilman Bill Summers, and City Councilman Jeff Burkart.
Current Clarksville Mayor Kim McMillan was sworn into office in January of 2011. When she was elected, her first goal was to reestablish the trust and integrity in the Mayor's office. She came into office with two decades of experience representing the citizens of Clarksville-Montgomery County.
«Read the rest of this article»


Clarksville, TN – The Clarksville-Montgomery County, Tennessee Economic Development Council (EDC) is pleased to announce that they will be moving forward, in partnership with the City of Clarksville and Montgomery County, on completing Joint Metro Region Research with the Nashville Area Chamber of Commerce.
"The ability to highlight the strengths and connections of both the Clarksville MSA and the Nashville MSA, and their connection to each other, is very exciting. There is a very unique and strong association that we must understand so we can adequately relay and share with potential investors in both markets. This research will help strengthen our recruitment of business and industry, as well as improve our marketing of the region," said Cal Wray, Executive Director of the Clarksville-Montgomery County EDC. «Read the rest of this article»