Clarksville, TN – Clarksville Mayor Kim McMillan was elected co-vice chair of the Middle Tennessee Mayors Caucus as the regional partnership of mayors and county executives met this week to choose officers and endorse state action on transportation funding.
The caucus also elected Williamson County Mayor Rogers Anderson as its new chairman and Metro Nashville Mayor Megan Barry as a co-vice chair.  Anderson steps into the position held by Franklin Mayor Ken Moore for the past three years.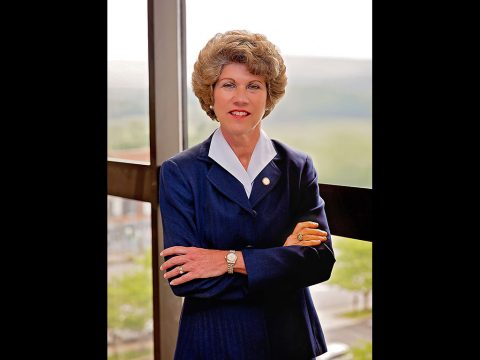 Mayor McMillan, who is also board chairman of the Regional Transit Authority, said she is pleased to rise into another key regional leadership position.
"The City of Clarksville has become an important part of Middle Tennessee's vitality and economic growth, and our leaders must be ready and willing to take a seat at the table and help chart the course for our region's future," Mayor McMillan said. "I have worked hard to represent Clarksville's interests in regional transportation planning, workforce development and other essential areas. With the rapid population growth in Clarksville and Nashville, being part of regional leadership is a necessity, not an option."
At its meeting October 4th, the caucus set transportation funding as its top legislative priority. Attacking congestion has been a priority for regional mayors for several years. Many are expressing optimism that progress will be made in the coming year as constituents' frustration with traffic rises and Tennessee Governor Bill Haslam has signaled he will propose increasing state transportation funding.
The Mayors Caucus also viewed the unveiling of Nashville Region's Vital Signs, a report produced by the Nashville Area Chamber of Commerce and the Nashville Area MPO to highlight Middle Tennessee's strengths, emerging issues, and challenges that threaten continued prosperity. For the fourth year, the Vital Signs report includes in-depth information about Clarksville.
"It's all about regional properity. Just as the RTA and Nashville MTA led the way on the nMotion regional transportation plan, the Mayors Caucus must help lead the discussion of what cities and counties need from the governor and General Assembly," Mayor McMillan said. "Transportation is at the top of the list because mayors know the impact of growth and congestion on our residents' quality of life. I'm happy to help lead the charge to find real solutions."
The caucus's transportation priorities for 2016 include:
Encourage the governor and General Assembly to find additional revenue to fund the state transportation improvement program.  Action should include built-in mechanisms to keep revenue adjusted to inflation.
Ensure that TDOT has the flexibility to work with communities to design transportation projects according to local needs and to invest in projects that improve conditions for all modes of travel.  Specifically, the state transportation program should include policies and projects to improve pedestrian and bicycle safety, and to help implement regional public transit plans.
Enable options for Tennessee counties and municipalities to raise and dedicate locally-generated revenue to improve roadway safety and traffic conditions.  In Middle Tennessee, such funding is needed to help implement regional transit projects identified in the nMotion Strategic Plan.
The Middle Tennessee Mayors' Caucus was formed in 2009 for elected officials to brainstorm and develop solutions to problems shared by communities across the region. The caucus includes 40 mayors and county executives representing 1.7 million Tennesseans from Clarksville-Montgomery County and Cheatham County, Davidson County, Dickson County, Maury County, Robertson County, Rutherford County, Sumner County, Williamson County and Wilson County.