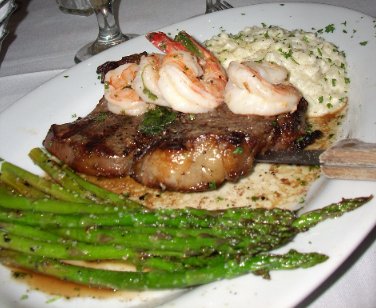 Where do I begin…?"
This line from the Love Story theme song perfectly articulates my dining experience at The Gas Lantern at the Rose Garden, housed in a lovely Victorian building in downtown Clarksville, a place where on warm days you can dine el fresco at spacious tables on the rambling front porch.
Step inside and the ambiance of high-ceilinged rooms, candles, and crisp white linen invite you to spend time savoring the multiple courses that mark Gas Lantern dining. If you in a "hurry up and eat we have to be somewhere" mode, skip this restaurant for now; the quality of the food and the impeccable service at The Gas Lantern mandates a leisurely pace for dining. You want to sit and savor the experience. «Read the rest of this article»
Holiday shoppers can jumpstart the season with an afternoon of leisurely shopping in Historic Downtown Clarksville today, opting not to wait until the traditional post-Thanksgiving Day start of the Christmas shopping season.
Antique shops, clothing stores, jewelers, and numerous specialty shops will open their doors Sunday from noon to 6 p.m.
The downtown shopping district offers a distinctly different shopping environment that the city's malls and box stores, with exceptional personalized services and merchandise that is generally unique to the individual shops. Shoppers can also choose to break from shopping with refreshing stops at several local eateries in the downtown district.
Submitted by Paige King on behalf of the downtown merchants. 
In the Bits and Pieces column of our AARP newsletter is an article that hints of the changes we experience in life — regardless of age:
Autumn is a second spring where every leaf is a flower [Albert Camus]
Life is short! Be swift to love. Make haste to be kind. [Henri Amiel]
You can judge your age by the amount of pain you feel when you come into contact with a new idea. [John Newton]
Stepping outside at 6 a.m. to walk Cassie, our 14 year old pug on this Autumn morning, I feel an invigorating coolness in the air. Even Cassie is livelier with this serious and refreshing dip in temperatures. She is energized.
These cool mornings are signaling a change from the sweltering and torrid weather of summer in Clarksville, one of the most simmering in this area's recorded history, to a more refreshing and comfortable clime. «Read the rest of this article»