WASHINGTON – In an 8th District radio address, U.S. Rep. John Tanner discussed the latest developments in Congressional consideration of various health care reform proposals.
Tanner-Update-on-Health-Care-0802091.mp3
Below is a transcript of Congressman Tanner's remarks: «Read the rest of this article»

The Joe Heitz Pass & Goevent is quickly approaching. On Aug. 8, all CMCSS students who passed their Advanced Placement exams with a score of 3, 4, or 5 have the chance to win a brand new Toyota from Joe Heitz.
With the vision from the Director of Schools, Michael Harris, The Education Foundation searched for an additional partnership to complement the Pass and Go event to provide additional incentives for the students who qualified for the car. Premier Medical came on board and agreed to give-away 12 laptop computers to provide students another chance to win, in addition to the car. Premier will also provide flash drives to every student participant in the program so that everyone will walk away with something. «Read the rest of this article»
Related Images: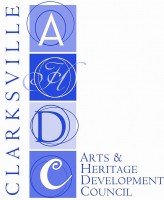 The Clarksville Arts & Heritage Development Council invites organizations seeking funding for artistic and cultural projects that benefit the community to apply for an Arts Build Communities (ABC) grant. A free grant workshop and information session will be held in the auditorium of the Customs House Museum (200 S Second Street, Clarksville TN) on Tuesday, August 4, at 3:00pm for interested applicants. While this workshop is not mandatory for applicants, first-time applicants are strongly encouraged to attend.
Arts Build Communities (ABC) is a program funded by the Tennessee General Assembly and administered by the Clarksville Arts & Heritage Development Council (AHDC) in cooperation with the Tennessee Arts Commission (TAC). ABC grants offer financial support for arts projects in all disciplines such as dance, music, opera/musical theater, theater, visual arts, design arts, crafts, photography, media arts, literature, interdisciplinary, and folk arts.
Funds awarded to a single organization in this grant category range from $500 to $3,000. Eligible organizations in the counties of Montgomery, Dickson, Houston, Humphreys and Stewart can apply for these grant funds. «Read the rest of this article»

The outer lanes on College Street from Browning to Drane Street will be closed today until approximately 12:00 p.m. while Gas and Water construction workers repair concrete at the corner of College and Drane and repair a sidewalk on the opposite side of the road.

Austin Peay State University student Maia Paris finished ahead of nearly 500 other Army ROTC cadets in the Army Physical Fitness Test (APFT) held recently as part of cadet training at Fort Lewis, Wash.
Passing the APFT is required to become commissioned as a U.S. Army lieutenant, and each cadet must pass the test on the fourth day of training in the 29-day Leader Development and Assessment Course.
The test, which measures a student's strength and endurance, includes sit-ups and push-ups, each times over two minutes, and a two-mile run.
Scores are aggregated into an overall official Army score. Paris scored 343 points on an extended scale – 300 is the Army's standard maximum score – placing her in the top 2 percent of the 500-squad regiment.
Related Images: