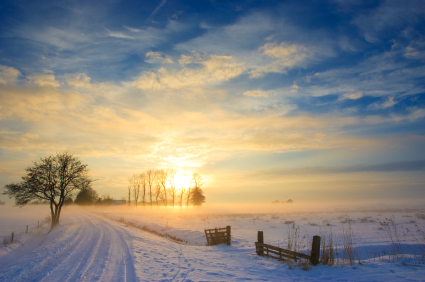 According to the weather channel we are in the "Winter's Triple Threat". Are you ready for this storm? As of 8:30 pm Thursday night, Nashville is supposed to get over a foot by the time it is all finished on Sunday! Clarksville is north of Nashville, so we are probably looking in the range of possibly 12-18 inches. Hopkinsville, KY which is only 20 minutes away from Exit 1 in Clarksville is said to have approximately 18 inches! (I cannot believe these numbers have been broadcast!)
Clarksville has been gearing up for this storm that is 1700 miles long since wednesday by putting down the salt or brine. The roads will be dangerous, so please stay off of them. There has even been concerns of power outages. As I was in Wal-Mart this afternoon, I ran into a lot of my friends who were getting ready for the storm that will keep us indoors. They even mentioned the fact that we might lose our electric. There is always a possibility. Those without a fireplace, do you know how you would stay warm if the electric is to go out?
Here are some ideas* to stay warm if you don't have electric or a fireplace. First make sure that you have not blown a fuse and check your circuit breaker in your electrical home panel. If the power is out over a widespread area, it may take longer to restore power everywhere. Sometimes it can be out for days.
Unless there is an emergency, do not call 9-1-1. That number should only be used if there is an emergency, or if someone is injured or in danger.
If there are power lines down in your neighborhood, do call 9-1-1 and call your utility company. DO NOT GO NEAR DOWNED POWER LINES.
Listen to a battery powered radio or TV at the top of the hour.
Dress to stay warm. Wear layers, including a sweater, sweatshirt or even a jacket. You lose heat through your hands and the top of your head. Wear gloves and a knit hat, not just a baseball cap.
Avoid opening your refrigerator and freezer as much as possible. Food inside should stay cold for hours if the door is left closed.
If you're cold, take a warm shower – to increase your body temperature. Your hot water tank, even if electric, will stay warm for a few hours.
Unplug some of your major appliances. When the power comes back on, all those appliances can create a drain or power surge. This can harm sensitive equipment. Leave a light on so you'll know when the power is back on.
If you have a generator, do not connect it to your home's power system unless it has been properly installed and disconnects you from the main power grid when its operating. If you do not disconnect from the power grid, you can be sending electricity back down the lines; not just to your home. That could be deadly for the power company workers.
If you have a regular wood stove or fireplace, you can use it for heat. However DO NOT USE kerosene heaters, BBQs, or any outdoor type heater inside. Such devices create poisonous gases such as carbon monoxide.
If you are in a neighborhood and know of someone that has a fireplace, call and see if you can come over there if the power goes out.
Check on your elderly neighbors or those who may have medical conditions or use medical machinery that operates on electricity. Make sure they are dressed appropriately warm.
If you have to go out, drive carefully. Remember that traffic signals may be out during a power outage.
As of 8:30 pm Oklahoma is without power for 63,000 residents and it could take up to 5 days to restore power! They have freezing rain and will have over 16 inches of snow after that.
Texas has wind damage reports at peak: 7,500 without power and road crews are on 24 hour mode. Floods here and more to come! Wind has been the biggest culprit.
Arkansas is stock piling poles 400 linemen are on standby to replace. That is a lot of poles!
This is coming our way! Over 21 million people will be impacted!
Please stay safe and warm.
About Thea Long
As an Assistant Loan Officer for VA Mortgage Center and a retired REALTOR® with Coldwell Banker Conroy, Marable & Holleman, Thea has been investing in Real Estate for 12 years now. She has been a member of the Chamber of Commerce since 2007. In her spare time, she sings the National Anthem for Chamber events, military events and sporting events, including the Nashville Predators opening season in 2007/2008, and the Nascar Qualification at the Atlanta Speedway 2008. She is currently Ft. Campbell, KY Operation Rising Star 2009.

Thea Long, previously Agnew,  is no stranger to Clarksville, TN. Raised in a military family, she graduated from Northeast High School and all three of her children are attending and graduating from her alma mater.  Her hobbies include writing, reading, research, marketing & design, blogging, sports and exercising.

Web Site: http://www.diariesofafruitcake.com/
Email: theaagnew@me.com
Sections
Commentary
Topics
Electricity Outage, ice storm, weather channel, Winter Storm