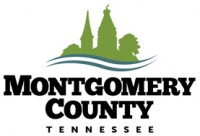 Clarksville, TN – Lynn Palmer and Jerry Church, two of the  members of the Quilt Posse Guild presented a basket of dog and cat toys, feeding bowls, grooming aides, supplies and shampoos along with a gift certificate for $200.00 for food and supplies to Tim Clifton, Director of the Montgomery County Animal Control and Adoption Service and "Pebbles" the office mascot.

The gifts were the Christmas charity project of the members of the Quilt Posse Guild which meets each month at the Montgomery County Library in order to help preserve the art and history of quilting.

Director Clifton provided a tour of the cat adoption facility where visitors can meet  and choose a cat for adoption . During the visit we were able to meet Adoption counselor volunteers Kim Bradley and Shauna Lund, who help families choose a pet that will blend well with their family.

The shelter has a donation wish list that can be obtained at the front desk. Some of the needed items include Cat litter, wet food for kittens and older dogs, stainless steel non-tip bowls for dogs and cats, thick trash bags, cat and dog grooming brushes and shampoos, and flea treatment for both dogs and cats.

They also need volunteers  and greatly appreciate donations.  Gift certificates from pet centers for toys and supplies are greatly appreciated. The shelter also accepts clean, not-shredded newspapers for use in the animal cages.

If you have time to spare or need a worthwhile project for your group or club, please consider the Montgomery County Animal Control and Adoption Service on Spring Street here in Clarksville. There is a Facebook page online and a friendly staff available at the office to answer questions.

Merry Christmas to all the staff and animals available for adoption.
About the Montgomery County Animal Control
The mission of Montgomery County Animal Control and Adoption Services is to promote and enforce the humane treatment of our animal population as well as a dedication to rabies eradication, reducing animal euthanasia and controlling the pet population through a cooperative effort with the community.
Animal Control is located at 616 North Spring Street, Clarksville, TN.
For more information call 931.648.5750 or visit their website at: http://www.mcgtn.org/animal-control
Photo Gallery
About Jerry Church
Jerry Church is a native Clarksvillian. She graduated from Clarksville High School, and attended Austin Peay State University where she received Bachelor degrees in Arts and Crafts, and Speech Communication and Theatre; and a Masters degree in Psychology. Jerry retired from the State of Tennessee serving the people of Tennessee as a Vocational Rehabilitation Counselor. She is married to Clyde Church and they reside in Clarksville, TN. Her hobbies include quilting, embroidery, basketry, gardening, and reading. Together Jerry and Clyde also enjoy fishing and photography.

Email: jerrychurch91@yahoo.com
Sections
News
Topics
Clarksville TN, Donation, Jerry Church, Kim Bradley, Lynn Palmer, Montgomery County Animal Control, Quilt Posse Guild, Shauna Lund, Spring Street, Tim Clifton