On the Road in America is an occasional column of thoughts, ideas and observations from my travels.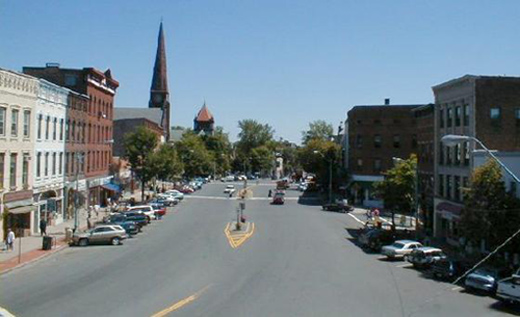 When I first moved to Clarksville four years ago, I was initially fascinated with the immense geographic area of the city. It was an "urban sprawl" that included an explosion of multiple housing developments. It looked, for the most part, like the bedroom communities of exploding around New England's major cities. Sort of. But less well planned.
In fact, the photo of downtown Northampton (above left) looks a lot like Franklin Street with the exception of the width of the Main Street, which is large enough for multiple lanes of traffic, angle parking on both side of the street, and in the winter, mountains of snow plowed into the middle of the road until the bucket loaders roll in and haul it all to the river. Just around the corner is Smith College, perhaps a tad larger than APSU, but not much. Crosswalks are located on every block and motorist beware: you will be ticketed for failing to yield to pedestrian right of way everywhere in the city. People walk, bike and bus everywhere in this city.
«Read the rest of this article»