Austin Peay (4-8) vs. North Florida (7-7)
December 31st, 2014 | 2:00pm
Clarksville, TN | Dunn Center

Clarksville, TN – Austin Peay hopes to take momentum into 2015 when it plays host to North Florida, 2:00pm, Wednesday, in Dave Aaron Arena.
The New Year's Eve contest will be APSU's final of 2014 and the Govs are seeking an uplift after a disappointing pre-Christmas finale at Lipscomb, a 69-63 road loss in a December 21st contest that saw them overcome an 11-point second-half deficit to tie the contest but only falter down the stretch.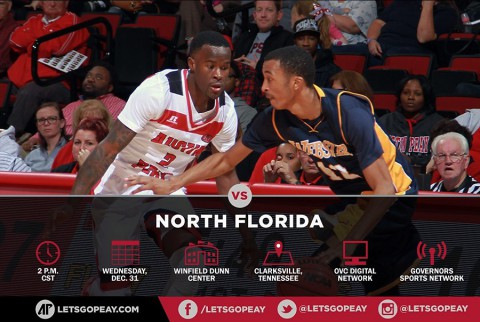 As a result, the Governors enter the game at 4-8, with Wednesday's contest and Saturday's at Ole Miss the final non-conference tilts before opening Ohio Valley Conference play January 15th at Jacksonville State.
They continue to seek an offensive identity. APSU has shot less than 40 percent from the floor in 6 of 12 games this season. The Govs were a disappointing 3-of-20 from three-point range against Lipscomb—APSU has made four or fewer three pointers in half their game this season.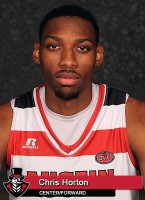 Preseason All-OVC selection Chris Horton has been APSU's most consistent performer so far this season, averaging 12.0 points and 10.1 rebounds per contest. He has carved out six double-doubles in the 2014 schedule portion.
After being knocked from the Oakland City game after a sideline collision, forward Chris Freeman bounced back with 15 points and 11 rebounds against Lipscomb—it was his season's second double-double.
But it is the backcourt where the Govs need more consistent production. Ed Dyson is averaging 10.7 ppg, but is coming off a 3-for-12 shooting performance at Lipscomb that saw him fail to connect on a three pointer. Fellow wing Khalil Davis is averaging 10.2 ppg but has struggled shooting (31.1 percent).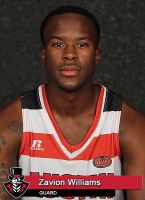 A potential return of guard Zavion Williams, who has missed the last three games with a leg injury, could help alleviate some of the offensive struggles.
The Govs face a 7-7 North Florida team that is used to being on the road. The Ospreys only have played three home games this season and have carved out a road win at Purdue earlier this month.
They also have proved tough for both Northwestern, a 69-67 loss, and Iowa, 80-70, in their mini-Big Ten tour. The Ospreys are coming off a 87-84 defeat at Tennessee Tech, Monday night. It was the second close loss to the Golden Eagles this season.
Guard Dallas Moore leads the way, averaging 17.5 points, shooting 56 percent from the floor (44 percent from three-point range). Forward Chris Davenport comes in at 11.1 points, shooting 55 percent from the floor, along with 6.1 rebounds per contest.  Beau Beech, a 6-8 guard/forward, is averaging 10.9 points per contest, shooting 36 percent from three-point range.
The Ospreys have nearly doubled the Governors in three pointers made (122 to 62), with three players connecting on at least 25 long-range shots. Sharpshooter Trent Mackey has connected on 51 percent (37 of 72) of his three pointers off the bench.
North Florida was picked second in the Atlantic Sun preseason coaches poll, just ahead of Lipscomb, but third in the media poll.
What You Should Know
The Series: This is the first meeting between Austin Peay, a member of the Ohio Valley Conference, and North Florida, a member of the Atlantic Sun. North Florida, formerly an NAIA program before moving to NCAA Division II, began its move to Division I in the 2005-06 season.
What a Win Would Mean: The Govs would end 2014 at 5-8…it would make the Govs 1-2 against the Atlantic Sun Conference this season……the Govs would end December at 3-3… it would make Dave Loos 1-0 against North Florida…the Ospreys would go to 0-3 against the OVC this season…it would give Loos a 1-0 record against Ospreys coach Matthew Driscoll…it would be Dave Loos' 470th career victory.
What a Loss Would Mean: The Govs drop to 4-9 in 2014…they would end 2014 with two straight losses…it would make the Govs 0-3 against the A-Sun this season…they would go to 2-4 in December…Loos would drop to 469-413 overall and 387-360 as the Governors head coach.
Broadcast Information
Radio | Governors Sports Network
Play-by-Play: Greg Walker
Analyst: David Loos
TV | GovTV | OVCDN
Play-by-Play: Will Pryor
Analyst: Josh Stephenson
Governors on the Web
Live Video: www.ovcdigitalnetwork.com
Live Audio: www.LetsGoPeay.com
Live Statistics: http://stats.statbroadcast.com