In real estate, they say location is everything. In placement of fuel storage terminals, no truer words were ever spoken!
TEPPCO Partners, LP announced plans to construct a new refined product terminal in Clarksville along the Cumberland River. Two local businessmen apparently are engaged in this development. Normally one is inclined to celebrate such high dollar economic investment in the community.
This project is part of a three terminal initiative which will cost approximately $75 million. However, it must be noted that the given location is just several brief miles above the city's water intake facility, our only water intake point on the Cumberland. As such, it poses a serious potential hazard to our drinking water supply.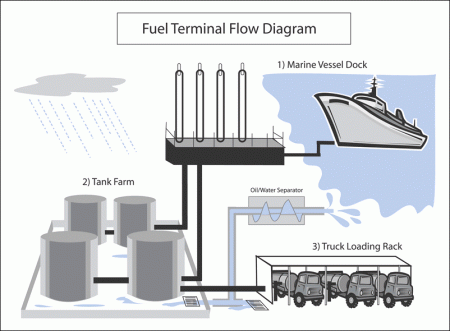 TEPPCO's press release states that the Clarksville facility, along with another to be constructed in Clifton and a third to be located at a site yet to be determined, "represent the continued successful implementation of our strategy to develop a network of refined products distribution facilities along inland waterways in the southeastern United States." All three sites, only two will be here in Tennessee, are touted as ventures "that will supply markets in Western Tennessee." Also, "Combined the three new terminals are expected to have 800,000 barrels of storage capacity for gasoline, diesel, and biofuels and offer improved trucking logistics with supply provided by barge transportation." "The initiative is projected to be completed during the first quarter of 2010."
The Clarksville site is located southeast of Queens Bluff off of the Martin Luther King Parkway extension, or 41-A Bypass. That this roadway serves as a major entry route to our city from I-24 is a double-edged sword in this situation. From the terminal operation's viewpoint, this must be seen as a major incentive. However from the attractiveness aesthetic of overall economic development and tourism attraction, having incoming guests driving by a fuel storage terminal complex in the midst of residential and commercial hubs can't be seen as a major inducement for any forward-thinking city. After all, I-24's Exit 11 is a major thoroughfare into our city. Additionally, one must ask what impact this will have on vehicular traffic on this roadway? It is already rated as a heavily traveled roadway with congestion problems, traffic accident hot-spots and maintenance deficiencies.

Clarksville's water intake facility on Queens Bluff which is located just downriver from the proposed fuel terminal location.
It is to be hoped that local government approval of this initiative has not already been given. On the surface, there would seem to be cause for major hesitation in greenlighting this project. Safety of the city's water intake point must not be shortshrifted for any amount of economic development. The aesthetic value of our city's visionage in all sectors also should not be downplayed. We don't need to create a new Kraft Street that would then be subject to "redevelopment ordinance/plan" battles down the road.
It is yet to be seen what kind of corporate citizenship TEPPCO Partners LP intends to bestow on our community. For everyone's benefit, we hope this first foray bears a more desirable and tasty fruit. Thus far, it has only stirred up a unsettled stomach.