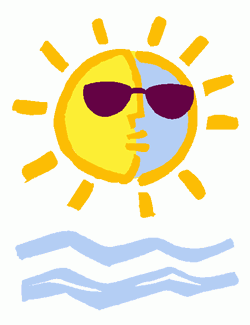 This morning as I sat down at my desk, it was already 81 degrees. At the bottom of my monitor the daily forecast called for a high of 94 and displayed bright red thermometer with flames radiating from it. It's the start of June, I sighed, and already it's just too darned hot. And it's going to stay that way.
NOAA forecasters are calling for another week of highs in the low to mid-90s and while the humidity is still in the low to mid-60s, it is high enough to make the air feel "muggy." Evening temperatures are expected to stay in the 70s.
The culprit is a large area of high pressure that will continue to pour hot and humid air across the South through the weekend. Aside from the spotty thunderstorms, the high will prevent widespread storminess from impacting the South. While the low risk of severe weather is good news, the cooling thunderstorms typically bring, however, would be beneficial.
With memories of last year's unrelenting 100 degree heat wave in mind, it seem this summer weather season is off to a similar start, though summer itself doesn't start until June 21.
As the weather heats up, keep a few safety tips in mind: use plenty of sunscreen, limit peak time (10 a.m.-3 p.m.) sun exposure, and stay hydrated. Keep those water bottles handy, especially if you have to work outdoors.