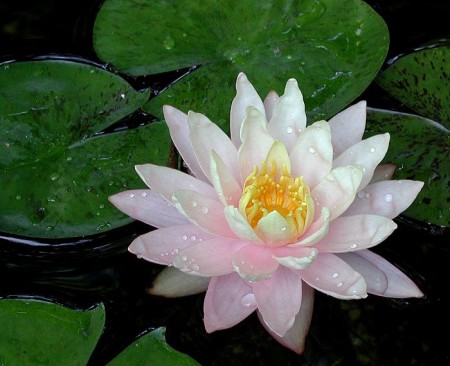 The Montgomery County Water Garden Society will hosts its annual Watergarden Tour Sarturday, August 23, from 9 a.m. to 4 p.m. The event is a self-guided tour of seven watergardens in the Montgomery County Area. The tours is priced at $10 per person, with children under 13 admitted free. Tickets are available on the day of the tour, and will be sold from the parking lot of Dave's Small Engines at 2480 41-A Bypass in Clarksville.
The gardens showcased on this tour include:
Room With a View, Bill and Dianne Toombs. Most people would love to have the view that the watery inhabitants of this pond enjoy. Stunning scenery and one very large stone waterfall are the stars of the show in this picture perfect country setting.
Not One But Four, Tim and Pam Cash. A beautiful lily pond greets you as you drive up to this lovely home. But don't stop there, three ponds in the backyard are home to large koi and tropical plants. Waterfalls lend a peaceful sound to this spectacular setting.
Hidden Treasure, Scott Brison and Terrie Young. These owners have used their ingenuity and gardening talents to the maximum in designing a beautiful water garden in a small backyard. A waterfall, lovely flowers and a great view from their deck all add up to make this a lovely, relaxing setting.
A Yard for Family Fun, Jack and Peggy Lister. A waterfall and small stream lead into this water garden, which lends a restful spot to this backyard set up for family gatherings, complete with a fire pit. Whimsical characters add a fun touch and water garden plants abound.
Come Sit Awhile, Ron and Linda Westfall. This lovely backyard water garden sits under beautiful shade trees and provides a peaceful setting for the large koi who make this pond their home. Two waterfalls enhance the water garden and add to the serenity.

Rich orange and rust colored koi add a spark to any watergarden.

Country Charm, Delmar and Hazel Jensen. You will find the drive to the country well worth your time when you see this beautiful water garden and its lovely surroundings. The owners completely built this pond with their own hands, including the digging and carrying the numerous rocks that surround the area. Their work has been rewarded with a wonderful, relaxing view from their deck which includes not only the pond, but flower beds and a pastoral view for miles.
All in the Family, Waylon and Dreana Jensen. Not to be outdone by his parents, this young couple has built their own water garden oasis. The L-shaped pond features a small waterfall and is home to beautiful koi and water lilies.
The tours will conclude with a picnic at Rotary park at 5 p.m.
The non-profit Montgomery County Watergarden Society was founded in 1999 and has grown to over 100 members. The group is dedicated to the further education and enjoyment of ponds and water gardening in the Clarksville, Montgomery County areas of Tennessee. Our year culminates in our annual "Water Garden Tour," which is the only source of revenue for the organization other than membership fees.
Sponsors and supporters include Dave's Small Engines, State Farm agent James Shelley, Montgomery County Co-op, Clarksville Exterminating Co., Country Koi, Earl's Water Garden Service, Eden Day Spa, Lowe's of Clarksville, Rural King, Home Depot and UPS Store (Wilma Rudolph Boulevard.).
For more information, call 249-4995, or go to www.mcwgs.org.