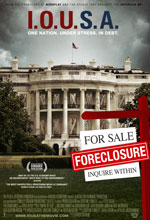 For one night only, Nashville's Opry Mills and Green Hills cinemas will screen I.O.U.S.A., a Sundance award-winning documentary on the state of the nation's finances The screening, which starts at 7 p.m. CST, is integrated into a broadcast panel discussion.
The live discussion with America's most notable financial leaders and policy experts, including Warren Buffett, CEO of Berkshire Hathaway; William Niskanen, chairman of the Cato Institute; Bill Novelli, CEO of AARP; Pete Peterson, senior chairman of The Blackstone Group and chairman of the Peter G. Peterson Foundation; and Dave Walker, president & CEO of the Peter G. Peterson Foundation and former U.S. Comptroller General, promises riveting dialogue and keen insight into the crisis we currently face. The panel will be moderated by Becky Quick, co-anchor of CNBC's morning news show Squawk Box.
From the producers of Wordplay and the studio that brought you Supersize Me, the must-see documentary I.O.U.S.A. uncovers the source of critical economic concerns that touch the lives of every American. A tapestry of archival footage, hard data and candid interviews woven together, it paints an authentic profile of today's economic condition. Solutions for how we can impact this nationwide crisis and evolve into a more fiscally sound nation for future generations are offered by the documentary's powerful conclusion.
In promoting the film, producers write:
I.O.U.S.A. boldly examines the rapidly growing national debt and its consequences for the United States and its citizens. As the Baby Boomer generation prepares to retire, will there even be any Social Security benefits left to collect? Burdened with an ever-expanding government and military, increased international competition, overextended entitlement programs, and debts to foreign countries that are becoming impossible to honor, America must mend its spendthrift ways or face an economic disaster of epic proportions.
Throughout history, the American government has found it nearly impossible to spend only what has been raised through taxes. Wielding candid interviews with both average American taxpayers and government officials, Sundance veteran Patrick Creadon (Wordplay) helps demystify the nation's financial practices and policies. The film follows U.S. Comptroller General David Walker as he crisscrosses the country explaining America's unsustainable fiscal policies to its citizens.
With surgical precision, Creadon interweaves archival footage and economic data to paint a vivid and alarming profile of America's current economic situation. The ultimate power of I.O.U.S.A. is that the film moves beyond doomsday rhetoric to proffer potential financial scenarios and propose solutions about how we can recreate a fiscally sound nation for future generations.
This critically-acclaimed documentary film was conceived of, co-written and executive produced by Agora Financial's Addison Wiggin. In July 2008, the film was acquired by the Peter G. Peterson Foundation. This live premiere will screen in 400 theatres around the nation tonight, including Nashville's Opry Mills 20, 570 Opry Mills Drive, Nashville (615.514.4629) and Green Hills 16, 3815 Green Hills Village Drive Nashville (615.269.5910). Tickets are priced at approximately $12.00.