Topic: Film

Clarksville, TN – On Thursday, December 6th, 2012, the Customs House Museum and Cultural Center will be holding their Art and Lunch program featuring a film about Winslow Homer: The Nature of the Artist at 12:15pm. «Read the rest of this article»
Clarksville, TN – Austin Peay State University's premier art exhibition space, The Trahern Gallery, is often referred to as that "quiet little corner of campus."
That's about to change, as APSU's art department is planning on a dynamic and transformative new program of studios and exhibitions that will transform the space and hopefully the way students have come to see art on campus. «Read the rest of this article»
All thirteen of Stanley Krubrick's film will be shown over the next month at the Belcourt Theatre in Nashville. The Belcourt is located in Hillsboro Village; it is a great place to see the newest indie film or foreign film, as well as catch a classic movie.
I first discovered the Belcourt back in 1998, when they had a Warner Brothers film festival.  The first movie I saw in the Belcourt was Krubrick's Full Metal Jacket. It is always a treat to see a movie you've seen a hundred times on a TV up on the big screen.  My wife , a friend and I went to see The Shining last weekend.  I had never seen it on a big screen before, and what a difference that makes.  The shots of the drive up to the Overlook Hotel, the eerieness of the hotel's hallways, and, of course, Jack Torrence's spiral into madness take on new meaning on a huge movie screen.  Imagine  2001 Space Odyssey, Spartacus, or Clockwork Orange shown in larger than life.
About a month ago I rented The Killing; Krubrick's first movie circa 1956.  Being a big fan of old film noir movies, I loved this one.  I still can't believe it is over 50 years old. It doesn't have that big star and big special effect, but it just oozes quality with it great script and seamless direction. «Read the rest of this article»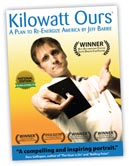 Depressed about Global Warming? Using amusing and inspiring stories Kilowatt Ours teaches how you can personally make this a greener world.  This 2008 updated version of Kilowatt Ours will be broadcast on Nashville Public Television, NPT Channel 8, on Friday, October 24 at 7:00 pm.
Kilowatt Ours provides simple, practical, affordable solutions to America's energy crisis and shows how we can save electricity, save money and make a difference for ourselves and the planet. It is unique in that it is a solutions-oriented look at one of America's most pressing environmental challenges. Yes, this film has solutions for us; it is not "this is too depressing" and it is not "this problem is too big".  «Read the rest of this article»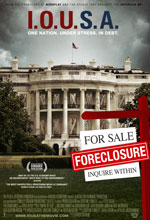 The audience was small but enthusiastic at Opry Mills 20 in Nashville last night for the national premiere of I.O.U.S.A. and a live panel broadcast that put the opinions and experience of five fiscal leader in the line of fire from the public.
For one night only, both Opry Mills and Nashville's Green Hills cinemas screened what can only be described as a new kind of horror film, I.O.U.S.A., a Sundance award-winning documentary on the state of the nation's finances. The picture isn't pretty.
The film itself is a medley of old political footage, newly taped events, lots of graphics and a occasionally irritating hand held cam in need of a steadier ride. Its opening is an eclectic selection of former Presidents, and current President George W. Bush, making statements about how we must get the economy (read: out of control spending) under control. From Presidents Roosevelt, Eisenhower, Kennedy, Johnson, Nixon, Ford, Carter, the first G. Bush, Clinton and the current White occupant, we hear the same noise. «Read the rest of this article»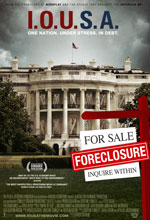 For one night only, Nashville's Opry Mills and Green Hills cinemas will screen I.O.U.S.A., a Sundance award-winning documentary on the state of the nation's finances The screening, which starts at 7 p.m. CST, is integrated into a broadcast panel discussion.
The live discussion with America's most notable financial leaders and policy experts, including Warren Buffett, CEO of Berkshire Hathaway; William Niskanen, chairman of the Cato Institute; Bill Novelli, CEO of AARP; Pete Peterson, senior chairman of The Blackstone Group and chairman of the Peter G. Peterson Foundation; and Dave Walker, president & CEO of the Peter G. Peterson Foundation and former U.S. Comptroller General, promises riveting dialogue and keen insight into the crisis we currently face. The panel will be moderated by Becky Quick, co-anchor of CNBC's morning news show Squawk Box.
From the producers of Wordplay and the studio that brought you Supersize Me, the must-see documentary I.O.U.S.A. uncovers the source of critical economic concerns that touch the lives of every American. A tapestry of archival footage, hard data and candid interviews woven together, it paints an authentic profile of today's economic condition. Solutions for how we can impact this nationwide crisis and evolve into a more fiscally sound nation for future generations are offered by the documentary's powerful conclusion. «Read the rest of this article»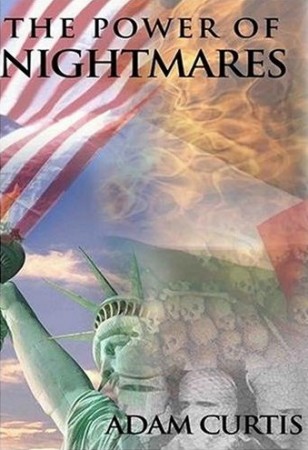 The Power of Nightmares (Part 1) is being shown this Friday, August 1, at 7 p.m. at the Unitarian Universalist Fellowship, 3053 Highway 41A South. The screening is a continuation of the UU First Friday Film program.
Adam Curtis showed us in Century of Self a key way of controlling the masses is by making people good consumers. Make people want things they do not need by appealing to their secret desires. Come to present time in The Power of Nightmares, where terror and torture and the fear of such has become the new tools of control by governments.
About the movie: For a time politicians promised to create a better world. When this dream lost its promise, politicians were simply seen as managers. Their power to control has returned as their job became rescuing us from dreadful dangers. Much of the terrorism threat is a fantasy that is an exaggerated and distorted dark illusion spread by governments, security services, and the international media. «Read the rest of this article»
In the cyber shorthand of my grandchildren, OMG!!!
That was my first reaction to Mama Mia, the new pop music turned Broadway hit turned silver screen mega … something??? The OMG does not necessarily denote pleasure.
Mama Mia is a musical rooted in the Abba top-forty playlists of a few decades ago. And yes, the music was toe tapping and hummable, huge hits for the group. In Mama Mia, the music dominates the show; it's the lynchpin upon which to hang a lightweight story that reaches for words like "rollicking" and "sentimental" and "exuberant" but never makes the real connection. Or rather, it makes it from time to time but doesn't let you pause to enjoy it. The music goes beyond domination, rolling into subjugation, rather like a steam roller flattening everything in its path. Come on. We need breathing room to separate and tame this relentless tide of song. «Read the rest of this article»
Part 4 of A Century of Self will be screened for First Friday Film at the Unitarian Universalist Fellowship at 3053 Highway 41-AS at 7 p.m. tonight. Admission is free.
The film is approximately 1 hour long and a discussion follows the film.
A Century of Self is fascinating look at how America's masses were/are controlled through the use of Freud's psychology. We've looked at how advertisers used this psychology to sell us things we do not need. Now we will look at how the government used/uses it to control us for its desires.
To find the UU Fellowship, drive south on Madison, 1.9 miles past the Wal Mart. Bring snacks to share if you wish.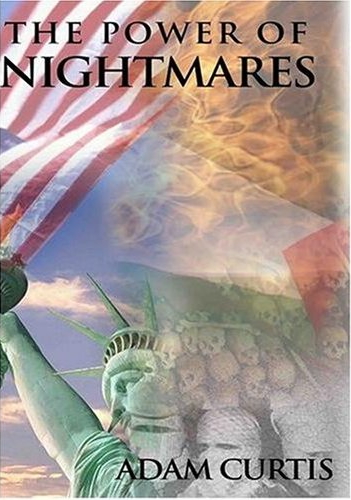 "The power of nightmares: The rise of the politics of fear" is an award winning documentary created by Adam Curtis for the BBC and was first broadcast in late 2004. The film explores the origins in the 1950's of Islamic Fundamentalism in the Middle East, and Neoconservatism in America, it highlights the striking parallels that exist between both movements, and the effects they have on our world today.
"Both the Islamists and Neoconservatives] were idealists who were born out of the failure of the liberal dream to build a better world. And both had a very similar explanation for what caused that failure. These two groups have changed the world, but not in the way that either intended. Together, they created today's nightmare vision of a secret, organized evil that threatens the world. A fantasy that politicians then found restored their power and authority in a disillusioned age. And those with the darkest fears became the most powerful. "
What's especially interesting about this film is the theory they propose that the hype about the islamic threat in the from of al-Qaeda, is in fact a myth perpetrated by politicians, particularly American neo-conservatives in an attempt to unite and inspire their people following the failure of earlier, more utopian ideologies. «Read the rest of this article»