Austin Peay State University is hosting the 24th annual  Ohio Valley History Conference on October 31 and November 1.  Six universities rotate hosting the conference:  Murray State University, Western Kentucky University, Eastern Kentucky University, East Tennessee State University, Tennessee Technological University and APSU.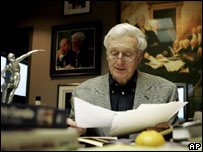 John Seigenthaler, Sr., host of NPT's "A Word on Words," will give the keynote address on Oct. 31 and a professor from Tennessee State University will speak about music and the Civil Rights movement at the Saturday luncheon.
The two day interdisciplinary event will consist of approximately 45 different sessions. Most sessions consist of three papers followed by commentary and question and answers.  Professors and advanced graduate students from across the United States will present papers of original research on a variety of historical topics.
Most of the papers are on topics of American history including, Native American, early trans-Appalachian settlement (including early Montgomery County settlement), antebellum history, Civil War, Cold War, American religion, WWI Homefront, military history, and women's history.
The Philosophy department is sponsoring two sessions on the Just War concept. There will be sessions on African history, European history, and 17th Empire (British and French). Also, there will be roundtables on Regional Writers and APSU research librarians' roundtable is Conducting Research on the Internet. One roundtable will consist of contributors to a recently published book American Crisis will discuss their articles.
The keynote address at Friday's dinner will be John Seigenthaler, Sr., who served in the Kennedy administration, founder of the First Amendment Foundation and host of NPT's "A Word on Words." The speaker at the lunch on Saturday will be Michael Bertrand of Tennessee State University who will speak on race relations in the Civil Rights Era and an attack on Nat King Cole by whites during a concert in Alabama.
Participants can choose to attend sessions either Friday/Saturday or both. The conference pricing (dinner and lunch) is divided to easily allow participants to choose according to their interests or needs. Registration is $35 through September 30, then on Oct.1 the registration is $45. The October 31 dinner is $20 and the lunch November 1 is $15. Montgomery County School teachers may optain in-service hours by attending.
For complete information including registration form and program, visit the OVHC web page or contact Minoa Uffelman at the APSU History Department, 221-7704 or .