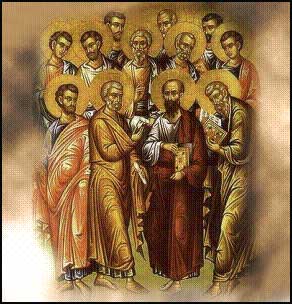 WWJD is sometimes singled out as a standard for measuring moral beliefs and moral decisions. Perhaps we can receive spiritual motivation, too, by asking "What would the Apostles of the New Testament do?"
One Friday morning during my solitary time in fellowship with God, I read a passage of Scripture that spoke to me from Acts 4: 32-37. Verse 34 summarizes the result of corporate and united action taken by the disciples: "There was not a needy person among them." The context sheds light on the meaning of the verse. The disciples shared their time, skills and talents as in response to God's call. They sold their houses and land and shared everything.
In analyzing this verse we see first a direct giving spirit. Their graciousness and personal sacrifice is a principle incorporated into our faith. All major faith groups expose this idea of sharing and giving to others. How can we practice this concept and integrate it into our own lives? As a spiritual people, we recognize the benefits of giving.
There are ways for us to emulate the example of these men and women of early church. First, a sensitive look at our own community will challenge us. Our very own Salvation Army, Roxy Regional Theatre, Animal Control, Precious Friends, and Loaves and Fishes Soup Kitchen, to name a few, provide opportunities to do good for others by sharing even though we have personal needs.
Loaves and Fishes is always in need of donated food to feed the poor and in serving the disenfranchised of our city. Daily, over 150 meals are served and sent out to the needy. Gifts of canned food are appreciated and will be used to meet the needs of unfortunate citizens. Also, Loaves and Fishes is always in need of workers to pick up food, and properly prepare and serve a warm healthy meal. We who serve offer our smiles and greetings as though Jesus was standing before us.
Secondly, this is a constant need for supplies, food and volunteers for our organization dedicated to serving pets who, for one reason or another, need a home. Cats 'r Us and Precious Friends offer protective care for abandoned pets. Their resources are provided only by residents of the community; they receive no tax dollars for their work of mercy.
We will deepen our spiritual life through Holy Communion, fellowship, prayer, reading the Bible and other spiritual books, and last but not least, by sharing and giving. Recently, the spirit focused me on making a contribution to help a financially struggling  APSU student. "What would the disciples do?"