This review ran in Clarksville Online on Nov. 29, 2006. But as my granddaughter and I unpacked my collection of snowmen for the coming holiday, my carefully wrapped musical plush Snowman emerged, to the delight of both of us. Everything else was dropped as we sat in the living room, puling the cord that triggered a music box version of the film's hit song: Walking in the Air. As a Christmas gift idea for the child all of us, and a reminder of just how good animation can be, I reprint this review, with an updated video clip. Enjoy.
I can't recall how many copies of The Snowman I've bought over the years, but it's been quite a few. I usually end up giving them away to children who watch and are captivated by its' magic. And then I buy another copy.
To the uninitiated, The Snowman is a delightful, animated short film about a young boy, James, who builds a snowman that springs to life as midnight chimes. It has only a few lines of introduction at the beginning; the remainder of the film is a symphonic soundtrack that follows their adventures, first as Snowman explores James' world, putting on pants with suspenders, trying on hats, discovering a music box and the dangerous warmth of a fire. James and his fantasy creation dance across the floor of the house before heading outside, where the he and Snowman, in his mossy green hat and scarf embark on a journey north, racing through the forest and flying through the sky to a magical gathering of snowpeople in the far, far north.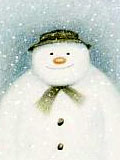 The artwork is a palette of soft colors, gentle curves and feathered edges. The movement is soft at times, buoyant and bright at others.
This Oscar winning short animated film (1982), created and written by Raymond Briggs, was directed by Diane Jackson, has brief narration by David Bowie and includes the song Walking in the Air, sung in by Peter Autry . It runs a mere 26 minutes, sans dialogue, but its magic, its' enchantment, are timeless.
Watching The Snowman has become a Christmas tradition. It is available as a film (videotape or DVD), and as a musical soundtrack. The Snowman has quietly grown into an industry, with Snowman paraphernelia of all kinds available in stores and online. I have it on videotape, on DVD, and audio track as well. And every winter, a softly stuffed snowman, with its own pull cord that provides a few moments of enchanting music, emerges from hibernation to rest on my pillow, or somewhere highly visible in my living room, where he stays until spring.
In the midst of the flash, splash, action and noise of modern toys and audio/visuals deemed fit for Christmas giving, and hyped in all the major markets, pause for a moment and consider the giving a child, or an entire family, the simple beauty of The Snowman. It really is a gift worth giving.