Topic: Family Life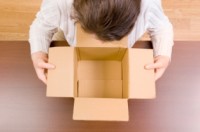 All the boxes were pulled out from the back of the closet, some large, some small, some ripping at the seams but all were covered in a thin layer of dust. Christmas snuck up on me this year and I was so unprepared.
"Do we need to deck all the halls?" I thought selfishly to myself.
"Elle-girl is still young yet, and won't notice if I left the Christmas Village out. But…she may enjoy it…"
Having a small newborn at Christmas makes yearly festivities a little more challenging. Decorating for Christmas is certainly one of those challenges. My husband came home that night to find that Christmas had exploded all over the living room and on every counter top. I was sitting chest deep in cardboard, tissue paper and tinsel looking frantically for the most important part of our tabletop nativity scene, the Baby Jesus. "I can't find him!" I exclaimed. "Baby Jesus is missing from the nativity scene!" David assured me he'd turn up somewhere, and commented that the rest of the house looked very nice. "Thanks." I grumbled not really able to accept the compliment, and defiantly not seeing the beauty in it myself.
This was the year I was going to start the Advent calendar with Elle-Girl.
This was the year she would begin to form an impression of what Christmas really is.
This was the year we would read stories of Jesus' birth and set up the Nativity scene, and sing "Away in the manger" and "Silent Night"
This Christmas is pivotal! «Read the rest of this article»
This review ran in Clarksville Online on Nov. 29, 2006. But as my granddaughter and I unpacked my collection of snowmen for the coming holiday, my carefully wrapped musical plush Snowman emerged, to the delight of both of us. Everything else was dropped as we sat in the living room, puling the cord that triggered a music box version of the film's hit song: Walking in the Air. As a Christmas gift idea for the child all of us, and a reminder of just how good animation can be, I reprint this review, with an updated video clip. Enjoy.
I can't recall how many copies of The Snowman I've bought over the years, but it's been quite a few. I usually end up giving them away to children who watch and are captivated by its' magic. And then I buy another copy.
To the uninitiated, The Snowman is a delightful, animated short film about a young boy, James, who builds a snowman that springs to life as midnight chimes. It has only a few lines of introduction at the beginning; the remainder of the film is a symphonic soundtrack that follows their adventures, first as Snowman explores James' world, putting on pants with suspenders, trying on hats, discovering a music box and the dangerous warmth of a fire. James and his fantasy creation dance across the floor of the house before heading outside, where the he and Snowman, in his mossy green hat and scarf embark on a journey north, racing through the forest and flying through the sky to a magical gathering of snowpeople in the far, far north.
https://www.youtube.com/watch?v=v7uyVHBPqvU
«Read the rest of this article»
Local winery is site for relaxation, communal camaraderie, musical inspiration, diverse mini-buffets and flowing fruits of the vine! May Bacchus be praised!
The local phenomenon known as 'Jazz On The Lawn" rolls on, to great appreciation! Beachaven Winery plays hosts during the summer and early fall to a series of free music concerts on its back lawn, as it were. People of all stripes, shapes and divergent humanity find their way to the soft lilting sounds of music flowing from Dunlop Lane. They come with an immense array of cultural delicacies and favorites to share with friends, along with blankets, lawn chairs and an equally immense appetite to enjoy conversation, friendship and music. Saturday's concert featured the big brass sounds of Hypertension. «Read the rest of this article»
Last Saturday, Toys "R" Us together with Clarksville Online and other local sponsors held a beautiful baby contest. We had requested information needed to write an article from our liaison at Toys "R" Us and did not receive it. We needed for them to provide a list of entrants, the list of official winners, and a copies of the photographs that the Toys "R" Us photographers took of each baby. We had hoped to have our story written and published the next day, instead we spent the last week waiting for a response from them and did not receive it. So we are going to go ahead and publish the pictures that we took at the Clarksville Toys "R" Us on that day.
If we published a picture that you are personally in, feel free to contact us, identify the picture, and we will be happy to send you the full resolution copy so that you may get prints of the image. Family and friends should contact the people in the pictures. We apologize for the lack of other information, and for the delay however it was totally beyond our control.
The contest
«Read the rest of this article»

Our town needs some excitement and hockey can bring it. We need the Events Arena if for nothing else, well, events. Our adults, kids, and especially teenagers, need a place to go that doesn't involve an hour long, 70-80 mph three-dollars-a-gallon drive to Nashville. Clarksville is the size of a city but continues to have a town mentality. The ever-climbing population is here however we choose to embrace it. The quality of growth depends on making our "town" a place where people want to be; not a place from where they want to escape from the lack of "things" to do. «Read the rest of this article»

Tickets are now on sale at the Roxy Regional Theatre for "Buddy: The Buddy Holly Story", The World's Greatest Rock and Roll Musical.
This musical, which ran for 19 years in London, tells the story of crooner Buddy Holly and his rise to the top. «Read the rest of this article»
June 14, Flag Day, was Grandpa's birthday. My Grandfather was my best friend on earth. He was the very first person to hold and greet me into the world after I was born. He and Grandma would steal me away almost every summer and take me traveling with them. One time, I was around 7, we were staying at a hotel by a river that I loved so much that they decided to stay a couple more days. Even then I felt that they probably planned their vacations just for me.
When they didn't travel anymore, I stayed at their house in the mountains. With Pink Floyd playing in the background I was able to "find" myself in the completely boring fresh mountain air. Grandpa and Grandma showed me love no matter what. It was a good break from what was at home. «Read the rest of this article»

The Roxy Regional Theatre is a major contributer to the culture of Clarksville society. I have personally spent many evenings being entertained by their talented actors and actresses. The hard work, professionalism, and their dedication to their craft, shines through each show they produce.
They recently finished a run of the musical Bye Bye Birdie. Don't be too sad though, several great shows are coming soon, including Spoon River Anthology in the otherspace, The Graduate, and a musical version of the Buddy Holly story. «Read the rest of this article»