Topic: Reviews
Five features to look for when buying a grill; Plus, great grilling accessories that add sizzle to any cook out

Yonkers, NY – In Consumer Reports' new Ratings of more than 100 gas grills, models from Weber's Spirit line were among the highest scoring in its latest tests.
The full report on gas grills, which includes comprehensive buying advice and reviews of great gadgets for grilling fish, veggies, and more, is featured in the June 2013 issue of Consumer Reports and online at www.ConsumerReports.org. «Read the rest of this article»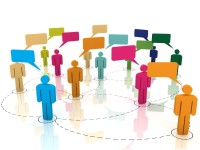 Clarksville, TN – Learning that one of their customers does not use the internet would astound most businessmen. A company's webpages, online listings, and social media profiles are the 21st century storefront window of a business.
Business reputation management is, therefore, an essential skill for the modern entrepreneur. So what happens when a customer comes across a negative review, and decides to try your competition instead of buying from you?
Bad news: you lose business! The good news is, there are a few things you can do to avoid this! «Read the rest of this article»
Pricey Mercedes-Benz ML 350 and BMW X5 midsize SUVs improve, but fall short of class leaders

Yonkers, NY – With its large back seat, easy access and ample cargo space, the family-friendly Honda CR-V narrowly topped the Mazda CX-5 in Consumer Reports' latest head-to-head small SUVs tests.
On paper, the redesigned CR-V and new CX-5 appear very similar. Both can accommodate five passengers, have comparable dimensions, are available with front- or all-wheel drive, and are priced about the same. They also finished very close in CR's overall road-test scores—with a 77 and a 75, respectively—just under the segment-leading Toyota RAV4 and Subaru Forester. «Read the rest of this article»
This review ran in Clarksville Online on Nov. 29, 2006. But as my granddaughter and I unpacked my collection of snowmen for the coming holiday, my carefully wrapped musical plush Snowman emerged, to the delight of both of us. Everything else was dropped as we sat in the living room, puling the cord that triggered a music box version of the film's hit song: Walking in the Air. As a Christmas gift idea for the child all of us, and a reminder of just how good animation can be, I reprint this review, with an updated video clip. Enjoy.
I can't recall how many copies of The Snowman I've bought over the years, but it's been quite a few. I usually end up giving them away to children who watch and are captivated by its' magic. And then I buy another copy.
To the uninitiated, The Snowman is a delightful, animated short film about a young boy, James, who builds a snowman that springs to life as midnight chimes. It has only a few lines of introduction at the beginning; the remainder of the film is a symphonic soundtrack that follows their adventures, first as Snowman explores James' world, putting on pants with suspenders, trying on hats, discovering a music box and the dangerous warmth of a fire. James and his fantasy creation dance across the floor of the house before heading outside, where the he and Snowman, in his mossy green hat and scarf embark on a journey north, racing through the forest and flying through the sky to a magical gathering of snowpeople in the far, far north.
https://www.youtube.com/watch?v=v7uyVHBPqvU
«Read the rest of this article»
Tumble into The Looking Glass and let your senses savor its unique decor and often exotic cuisine.
| | |
| --- | --- |
| | |
This Warfield Boulevard restaurant is housed in a small modern plaza that could be Anywhere, USA, but that's this eatery's only resemblance to the rest of the region. Step inside The Looking Glass and whirl into the whimsical, a colorful kaleidescope of mismatched chairs of all shapes and sizes, unique tables, sheer tablecloths and eccentric dolls garnished with tulle and feathers perched on mini-columns, set and ready to eavesdrop on your conversation over dinner. Frosted ornaments spill from the ceilings in random patterns. One wall of glass with a quiet table for two is highlighted by a pair of stained glass hangings of lush wisteria; another is tucked beneath a wedding-like garland of illusion veiling and white ornaments. Hand-painted chairs with gentle messages grace still another table. A deep leather couch invites one to linger over morning coffee and pastry. It's craft and class pulled from a Lewis Carroll collection of magical stories.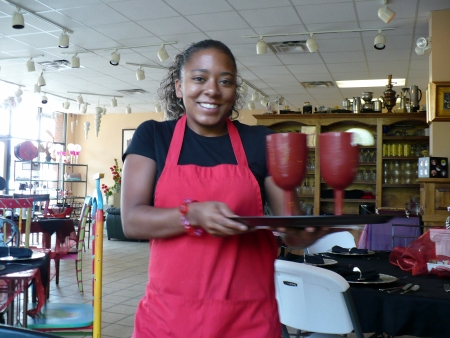 Our server Tiffyalena arrives with tall cool peach iced teas
My companion and I decided to sample a variety of foods. Our sweet and unsweet peach teas (mine with a slice of lemon) were rich and refreshing, the ultimate sip-able on a hot afternoon as we browsed the menu. Choices. Choices. We sampled "leftover" breakfast pizza squares that could easily have become dinner. We were both tempted by the asparagus soup, a creamy concoction served in a bowl on a plate surrounded by a dozen slices of the bread of our choice: sourdough slices for me, French bread for my companion. The soup was thick, hearty and delicious, but could have benefited from the inclusion of chucks of asparagus (so speaks the asparagus fiend). I can never get enough asparagus. «Read the rest of this article»

Clarksville, TN – It's true, sometimes you just want to go where everybody knows your name. That place for me, and for over 35 years many Clarksvillians and travelers, is none other than G's Pancake House Restaurants, Inc.  This restaurant chain is named after the late Eugene Sueiro and has two Clarksville locations and one in Oak Grove, Kentucky.
Many a newcomer to this military town has made G's Pancake House there first dining experience because of its location and proximity to the Fort Campbell, KY military base. But, once inside and settled, the staff and great food does the rest in making sure that you and your family become a mainstay and frequent return customer. «Read the rest of this article»

Exotic flavors. The scent of spices. Vivid colors. Ambient lighting. This is the world of Tandoor, a world of fine cuisine prepared and served in the traditions of India.
Open Tandoor's elegantly carved doors and walk into another time and place, one where the recipes, the spices, and the process of cooking stands far removed from western culture. The key to cooking here is the tandoor oven, a stainless steel oven not unlike a pottery kiln, lined in clay, flames curling up the sides to cook the flat breads that line its sides and seasoned meats and seafood laced onto three-foot long skewers.
Owner Nasir Hakeem demonstrated the art of making appetizing breads in his tandoor oven. Pressing cheeses, nuts and spices into the dough, he kneads it briefly, rolls it out and, using a heavy black mitt, slaps the dough onto the clay side of the circular oven, where the flames below slowly crisp and bubble the bread. Crispy on the outside, creamy with melted chesses inside. Grilled meats are seasoned first, then strung on a skewer to cook and crisp up in the flames. The aromas and the taste are tantalizing and delicious. «Read the rest of this article»

The Graduate is playing at the Roxy Regional Theatre. I went and saw it last Saturday night, here is my review of the performance.
Many of you have seen the movie which starred Dustin Hoffman, Anne Bancroft, and Katherine Ross. Many more have heard the song Mrs Robinson by Simon and Garfunkel which is based on snippets of music which appeared in the movie.
The song was not completed for the film; only snippets are heard as incidental music. When the film and the music became popular, Paul Simon put the snippets together into a complete song which rose to the top of the charts in 1968 knocking The Beatles' White Album off the number one spot.
The movie was adapted into a play in the year 2000. The play was critically acclaimed during it's run both in London's West End and on Broadway. «Read the rest of this article»

I attended the Clarksville NAACP's voter registration drive and rally today.
I made plans to share space with Debbie Boen and her Clarksville Free Thinkers for Peace and Civil Liberties display in the week leading up to the registration drive and rally. «Read the rest of this article»

I went to the Roxy Regional Theatre tonight, to attend their performance of Spoon River Anthology, which was performed in their OtherSpace theatre. If I had only one sentence with which to give a summation of the show, I think it would be: A tapestry of lives woven together by the the sweet melancholy strains of a violin. «Read the rest of this article»