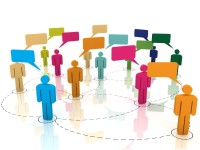 Clarksville, TN – Learning that one of their customers does not use the internet would astound most businessmen. A company's webpages, online listings, and social media profiles are the 21st century storefront window of a business.
Business reputation management is, therefore, an essential skill for the modern entrepreneur. So what happens when a customer comes across a negative review, and decides to try your competition instead of buying from you?
Bad news: you lose business! The good news is, there are a few things you can do to avoid this!
Here are some quick tips for managing your business reputation online
Don't write false reviews to try to hurt your competition or puff your business! You can severely damage your reputation, and look very foolish to boot!
Try to promptly and politely respond to reviews. This will demonstrate to readers that you care about customer service and you are listening.
People use local search sites now, just like people used to use the Yellow Pages. Make sure your business is listed. The more complete your listing is, the more likely you are to get good search result rankings.
Online reviews are a  business intelligence gold mine. Analyze these reviews as well as search statistics available from Google and other search engines to get a better sense of your who your customers are.
Here's another tip: don't worry about trying to control everything that is said about your business. Odds are, there's going to be someone out there who doesn't like you, your business, your products and services, or some other facet of your business, and they're going to tell their friends.
Your goal, instead, should be to try to make sure that the over-all online image of your business is more positive than negative. Facebook, Twitter, Yelp!, Citysearch, Urbanspoon and dozens of other websites all could contain information about your business, and you might need a full-time employee just to track and manage them all.
Companies like Reputation.com can help manage your online image.
You also might want to consider getting Trademark and Trade Dress protection, especially if you are concerned about businesses in your market with similar names or logos damaging your brand. Your logos, your business name, and other aspects of the way you brand yourself may be eligible for legal protection, and you may want a legal professional to help ensure your trade mark and trade dress are not being violated.
Executive Legal Professionals offers a service called Foundations with NameGuard that can help you manage your trademark protection and address potential incidents of trademark infringement. Contact ELP today for more information and a no-obligation consultation.
NOTICE: The opinions and ideas expressed in this article are solely the opinions of the author, and may not necessarily reflect the views of the website on which they have been published. Nothing in this article should be construed to be "legal advice." No attorney-client relationship results from the consumption of this media material. Please contact an attorney if you need legal counsel.