Tumble into The Looking Glass and let your senses savor its unique decor and often exotic cuisine.
| | |
| --- | --- |
| | |
This Warfield Boulevard restaurant is housed in a small modern plaza that could be Anywhere, USA, but that's this eatery's only resemblance to the rest of the region. Step inside The Looking Glass and whirl into the whimsical, a colorful kaleidescope of mismatched chairs of all shapes and sizes, unique tables, sheer tablecloths and eccentric dolls garnished with tulle and feathers perched on mini-columns, set and ready to eavesdrop on your conversation over dinner. Frosted ornaments spill from the ceilings in random patterns. One wall of glass with a quiet table for two is highlighted by a pair of stained glass hangings of lush wisteria; another is tucked beneath a wedding-like garland of illusion veiling and white ornaments. Hand-painted chairs with gentle messages grace still another table. A deep leather couch invites one to linger over morning coffee and pastry. It's craft and class pulled from a Lewis Carroll collection of magical stories.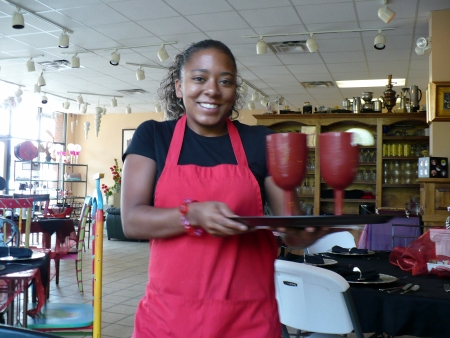 Our server Tiffyalena arrives with tall cool peach iced teas
My companion and I decided to sample a variety of foods. Our sweet and unsweet peach teas (mine with a slice of lemon) were rich and refreshing, the ultimate sip-able on a hot afternoon as we browsed the menu. Choices. Choices. We sampled "leftover" breakfast pizza squares that could easily have become dinner. We were both tempted by the asparagus soup, a creamy concoction served in a bowl on a plate surrounded by a dozen slices of the bread of our choice: sourdough slices for me, French bread for my companion. The soup was thick, hearty and delicious, but could have benefited from the inclusion of chucks of asparagus (so speaks the asparagus fiend). I can never get enough asparagus.
Our gracious server, Tiffyalena, brought out salads with a fresh mix of greens with sliced tomato and slivered carrots, and a rich, seeded raspberry vinagrette dressing, almost liquified raspberry preserves that danced across the tongue with a a savory sweetness.
We both chose entrees made with a touch of coconut. My companion selected a melt-in-your-mouth coconut shrimp, butterflied shrimp dipped in a coconut batter and lightly deep fried to golden crispness — with not a touch of oil (left above). I chose a coconut-pecan chicken, which was in fact two boneless, skinless chicken breasts dipped in a batter with coconut and chopped pecans, again deep fried to a golden crispness (right above). The uneven slicing of the chicken left the very edges a bit too well done, but the flavor and moistness of the majority of the chicken was quite good. The sweet and savoury dipping sauce was a plus, though both chicken and shrimp could be enjoyed with or without it. My companion added a dash of salt and pepper to his entree, but I skipped those extras and found the taste perfectly suited to my palate.
Our side dishes were slightly varied: a creamy fresh potato-egg salad for me, marinated sliced tomatoes for my companion. Neither of us could resist the temptation of asparagus spears as our second 'side dish' option. Coming from Hadley MA (the asparagus capitol of the world) , I grew up on asparagus and could eat it by the pound (dripping in butter, no salt) to the exclusion of everything else in the kitchen. I savored the opportunity to add these succulent stalks to my evening meal. The temptation to raid the kitchen for more was great.
Friends who have dined there also recommend the Hawaiian Rib-Eye Steak made with pineapple and served with garlic mashed potatoes, and the Salmon Wellington, a baked salmon in pastry puff served with the house sauce. Other house offerings are a 5-Pepper Chicken, Portabello Garden, and a Seafood Diable (mix of mussels, shrimp and scallops).
We reserved the dessert option for another day, though the display of Tiramisu, Rum Cake, Turtle Cheesecake, and delectable truffles were akin to the devil tempting Eve. Again, friends who dine there highly recommend the carrot cake.
The restaurant also serves a wide variety of deli sandwiches and wraps, a selection of salads, and offers soup in a bread bowl as well as the traditional serving. Appetizers include a spinach/artichoke dip, grilled chicken quesidillas, guacamole and mussels provencal (mussels ina butter wine sauce). My last experience of the Provencal dish involved my harvesting the mussels at the seashore, scrubbing off the beards, and cooking them in an herbed white wine and cream sauce into which I diped french bread chunks. with butter. It was a delight to see that delicious item on the menu and not have been the one spending an hour or two preparing it.
In addition to the imaginative indoor dining room, The Looking Glass has an outdoor patio surrounded by tall bamboo fencing. A water garden is overflowing with lotus and pond plants, driftwood and stone, sculpture of herons in flight and poised at water's edge. Tall tables (one set under a rusty arbor with a kerosene chandelier) rim the garden, which can also be accessed through an ornate gate from the plaza. Music (first middle eastern, then a bit of Pachelbel) created a soothing background of soft sound that made conversation easy.
One of the finest restaurants I've dined in, Simon Pierce at Quechee in Vermont, reviewed in magazines worldwide, has a similar menu and quality of cooking, though in a distinctly different country setting. The Looking Glass easily matches that culinary icon in quality, unique ambiance, and unobtrusive service; the taste and presentation of the food we ordered excelled.
Prices range from $7-$9 for sandwiches, $7-$10 for salads, and $10-$18 for entrees.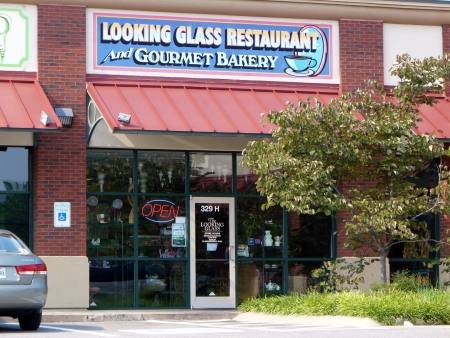 The Looking Glass Restaurant is located at Warfield Tower on Warfield Boulevard (next to Edington's Furniture Store) in Clarksville, TN. They are open Monday through Saturday from 7 a.m. to 9 p.m.. take home dinners and House specialties are available daily. For more information, call 931-552-6344 or go to http://www.lookingglassrestaurant.com.
Editor's Note: Christine Anne Piesyk has written about travel, food and entertainment for radio and print media  for over 30 years.
Photo Gallery
Sections
Arts and Leisure, Business

Topics
Business, carrot cake, Dining, Food, Reviews, The Looking Glass Restaurant