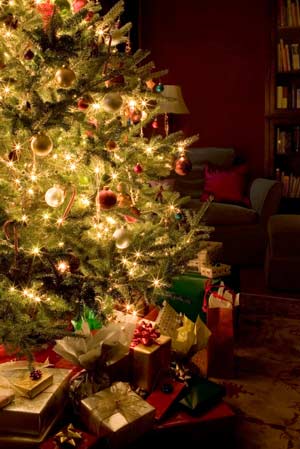 If you are purchasing a fresh Christmas tree, there are several tips that can prolong the life of your tree and prevent fires that can occur with live trees.
First,remember that most trees you buy precut were cut days or weeks, sometimes a month earlier, which can make "freshness" a moot point. Unless you cut your own at a local tree farm, freshness is not guaranteed.
Choose the freshest, greenest tree you can find, one with crisp moist needles. Shake the tree: if a lot of pine needles fall, the tree may be past prime for home decoration.  Leave the tree outside or in a cold garage until you"re ready to decorate it.
Clean your tree before you bring it inside – brush off dead needles and spider webs.
Cut of 1-2 inches off the tree trunk to allow water abortion.
Place the tree into a Christmas tree stand and fill with water according to manufacture instructions.
Position the tree so that it"s not over a heating vent. If it absolutely has to be over a vent, close the vent for the duration of the tree"s stay inside.
Don"t put it right up against a window where it"s going to get direct hot sun, or right in front of a fireplace or woodstove that"s in use. Keep away from any open flames.
Check the water level daily.
Unplug the lights at night and whenever you leave the house.
Finally, as in every season, have working smoke alarms installed on every level of your home, test them monthly and keep them clean and equipped with fresh batteries at all times. Know when and how to call for help. And remember to practice your home escape plan.