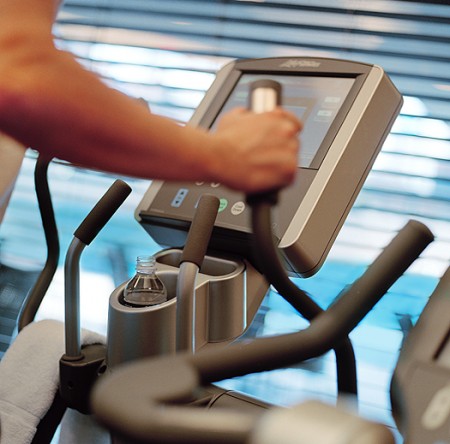 I still walk every morning with enthusiasm, for the anticipated events of the day. After a period of meditation, a cup of coffee, and the reading of the local paper, I drive to the Athletic Club where I get my physical challenges for the day.  I like the club for its equipment, personnel, swimming pool and diversions such as aquariums and televisions, but above all the companionship  of other dedicated men and women who exercise.
Yes, I get a spiritual lift at the club, in addition to honing and developing my muscles and maintaining stamina by physical exercise; it stimulates my mental and physical abilities. On the treadmill I can read a magazine such as  (a magazine devoted to religious news), or watch the Golden Girls or Cheers (two of my favorite comedy shows).  These benefits are foods for the soul.
One of the keys to successful exercise is the combination of discipline and persistence.  Keep trying. Most people get off to a great start with their fitness programs but gradually lose interest or "momentum. " To maintain such a rewarding regimen demands dedication. There are dozens of excuses from dropping out of an exercise program , including stress at home or work, medical appointments, children's sports programs,  even an injury — all weaken the resolve to perform physical fitness activities.
One of the leading excuses perhaps is the failure to budget time. For a fit body and soul, one has to give priority to exercising. "I just didn't have the time" is the most common excuse people use for hanging up their sneakers.
To your body and soul a favor and make time by writing in time for exercise on your calendar or daily planner and treat it with preference. My time at the club in the mornings is consecrated and hallowed; I appreciate its energy for the rest of the day.
Exercising, wherever it's done, gives fitness to body and soul.