Wow. The man just gets better and better. In catching up on recent films, I finally watched Clint Eastwood's latest movie. Gran Torino.
Written and produced by Eastwood, who is also the pivotal lead in front of the camera, Gran Torino opens with a funeral service for the wife of an aging and fairly foul-mouthed Walt Kowalski (Eastwood), for whom "curmudgeon" is the perfect term. With a raspy Dirty Harry growl and a familiar sneer, Kowalski has effectively isolated himself from family, seems content to wallow in a swamp of emotions and guilt carried over from his wartime service in Korea.
Kowalski  is the essence of grumpy, an emotion he is quick to vent on on his Hmong neighbors, for whom he holds an extensive range of language both rude and racist. It's not just directed at his new neighbors, though; Kowalski is a an equal opportunity racist. When one of those neighbors, a young man named Thao, tries to steal his prized 1972 Gran Torino as part of a gang initiation, Walt doesn't take it well.
Along the way, though, life intervenes, and Kowalski finds himself begrudgingly on a path to reform  Thao (an impressive performance by Bee Vang). As Kowalski, in a noble move to protect his young neighbors from gang harrassment, becomes reluctantly but increasingly involved in the everyday live of his neighbors and their culture, he must confront his own demons even as he puts his life on the line for someone else.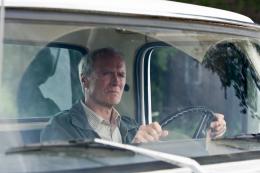 Even though we as the audience can infer the ending almost from the get-go, the film and the performances  draw us into this slowly paced movie one step, one event, one word, one look at a time. In many ways, Eastwood plays Eastwood playing Kowalski, but we don't care. In many ways, we've seen the plot before in iterations  from The Karate Kid to Life as a House, but we don't care.
Watching Eastwood, at 75, in this film is a bit of magic. As a director, he delves into the ordinary world of an ordinary old man, a retired auto worker in an old house, with a garage of carefully collected and tended tools, a push lawnmower for his postage stamp lawn, a Medal of Honor, an old gun, and a dog who has to be a matching 75 in doggie years (great character, that dog).
[youtube]nuJjTyEnKFA[/youtube]
In Gran Torino, the audience is presented with life played out in a Michigan town, without the noise and clutter of blaring soundtracks and mayhem. Thus when violence strikes, in ever escalating degrees, what was a relatively peaceful world cracks, and begins to shatter.
At a time when immigration is newsworthy nightly, at a time when gang violence plagues so many communities, the  co-existence of different cultures and intra-family hostility runs through this story; viewers are given small insights into heritage and traditions and manners, and the reveal that beneath the surface we are all human, and our blood runs red.
A word of caution: the language is foul, racist, raging; normally such a barrage of obscenity and crudeness would put me off a film. Gran Torino is that rare case when the language is so intrinsic to the character that it works, it sounds and feels real. It's Kowalski's truth. And that consistency makes him believable.
Circulating in and out of the story is the young Catholic parish priest, Father Janovich (Christopher Carley), who enters Kowalski's life at the funeral of his wife, having promised his late wife that the would get Kowalski to confession. Janovich is in the beginning another innocent, a man who watches as circumstance spirals into tragedy, endeavoring to save not just a soul but a life.
Gran Torino is a quietly powerful film that, even as I  anticipated the turns of plot, it nonetheless riveted me to the screen in the hope that I would be wrong. I wasn't.  But that ride in Gran Torino was worth it. Once again, wow!