WINTER WEATHER ADVISORY.  FLOOD ADVISORY.

National Weather Service:

Severe winter weather conditions through noon …significant icing in some areas, especially near the Kentucky border…poor road conditions… travel discouraged … falling trees limbs and power lines… some power outages are occurring.

School Closings (Wednesday, January 28) : Clarksville-Montgomery County Schools; St Mary's/Clarksville; Clarksville Christian; Clarksville Academy; Austin Peay State University. All CMCSS school activities are cancelled for Wednesday, January 28, 2009. This includes games, practices, weightlifting, and open facilities.
UPDATE: Snow is falling in Clarksville, with 1-2 inches expected before the storm winds down around noon. Ice accumulations in some parts of the city have triggered power outages. Many side roads are snow covered and driving is difficult.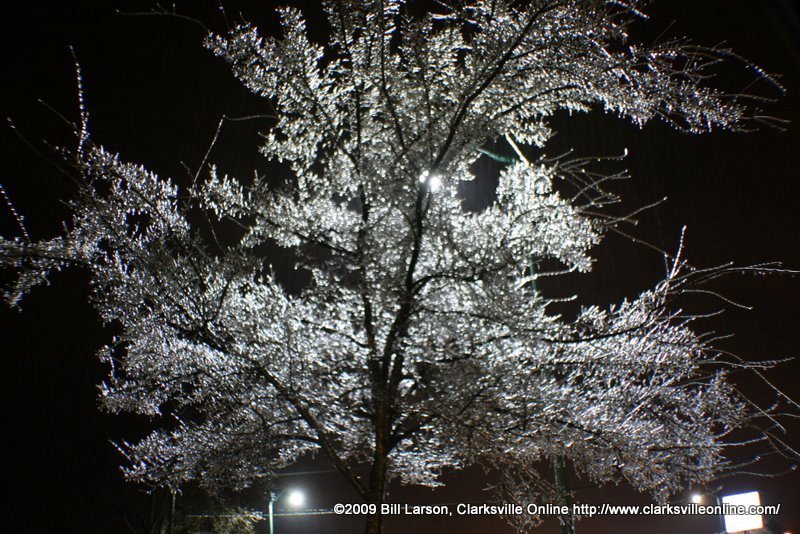 UPDATE: By 3:30 p.m., in addition to an Ice Storm Warning, the National Weather Service has issued a Winter Weather Advisory. Rain, heavy at times, is expected to continue through the evening, gradually turning to sleet, freezing rain  and snow overnight as temperatures drop to the mid- to upper 20s. The Winter Weather Advisory begins at 12 p.m. and runs through noon on Wednesday. Snow accumulation up to two inches, with localized higher amounts,  is possible. This winter weather will cause travel difficulties. Be prepared for slippery road conditions and limited visibility. Current temperature is 32 degrees. Total additional ice accumulations tonight will range from 1/2 to one inch.
UPDATE: At 10 a.m., numerous power outages have been reported across Montgomery County with heavy icing on trees and power lines. While main roads may be easily traveled, areas closer to the Kentucky border do have road icing. Bridges across the area are quicker to freeze. Current temperature is 32 degrees. While the temperature may climb above freezing for a time this afternoon, the second half of the storm will bring additional icing tonight and the potential for flooding overnight.
UPDATE: At 5 a.m. the temperature was 31 degrees, according to the Weather Page on Discover Clarksville. Bridges and overpasses are definitely freezing over.  Some trees are starting to fall, according to reports from both CEMC and the Clarksville Street Department scanner traffic. Salt trucks from both the City and County are hard at work with several tons of salt  laid down on area roads before 4 a.m. City and County Fire Department units are responding to power lines on fire.  Several power outages have also been reported. (Bill Larson update)
UPDATE: At 2 a.m. the temperature was 31° F, which was  prime freezing rain weather. Ice was building up on vegetation, power lines, fences, and other metallic structures. The Clarksville Street Department via scanner traffic is reporting  ice  build-up on bridges and overpasses. Exercise due caution if out driving. (Bill Larson update)
At 11 p.m., freezing rain had moved into the greater Clarksville area, right on schedule as predicted by the National Weather Service, which issued ice storm and hazardous weather warnings earlier in today.
The storm will hit in two rounds. The first round of dangerous weather is expected to continue through noon on Tuesday, mitigate slightly, and then bring a second round of freezing rain, sleet and snow through Wednesday morning.
A strong and extensive storm system is moving northeast from Texas,  and with surfaces at or below freezing, the rain that is falling is freezing on contact. Ice may accumulate from 1/4 to 1/2 inch during by noon Tuesday, with up to an inch near the Kentucky border; an additional 1/2 to one inch of ice will occur again Tuesday night into Wednesday.
This is a dangerous storm, the NWS stated in its warning. This storm has the potential to down tree limbs, power lines and makes any travel extremely hazardous. The NWS urges residents in the affected areas to be prepared for power outages and disruptions to business and travel. The first school cancellations have already begun, though Clarksville schools and APSU have yet to cancel classes.
There is a chance for light snowfall throughout the remainder of the week as temperatures will remain cold.
Photos by Bill Larson.