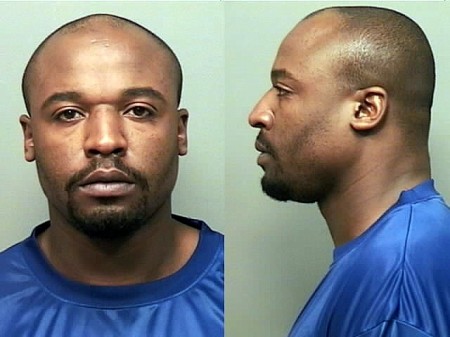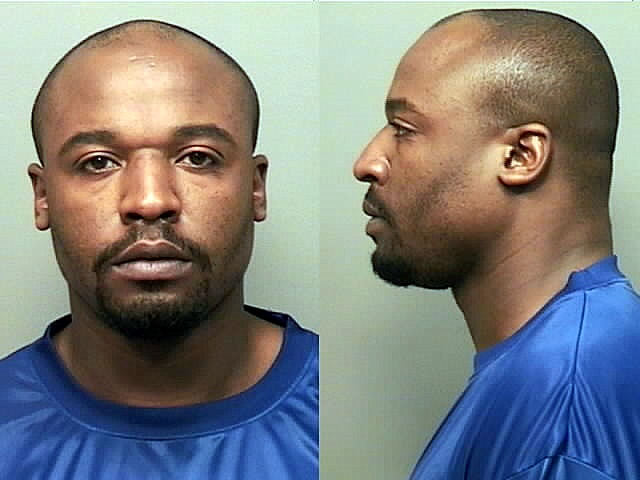 A Clarksville man who is also a registered sex offender, has confessed to the killing of a Clarksville woman and her two young children, and is being held at Montgomery County Jail without bond  on a charge of First Degree Murder.
Gerrard Exeter Robinson (B/M), 31, whose address according to  the Montgomery County Sex Offender Registry is listed as 205 Hermitage Road in Clarksville, will face 1st degree murder charges for the strangulation death of  his former girlfriend, Natalie A. Vullo, 30, of 901 Cal Court in Clarksville  late wednesday (2/18/09). Charges relating to the murders of her two children, Diamin Lynette Shanklin, 8, a third grade student at Minglewood Elementary School, and  Paul Zacharius Vullo-Nelloms, 3, are being readied for presentation to the Grand Jury. Cause of death for the two children was withheld.
In a media conference held today at noon at Clarksville Police headquarters, Police Chief Al Ainsley formally announced the intent of seeking a first degree murder charged and praised his officers for their efforts in investigating this tragedy and tracking down the perpetrator.
The Feb. 20 affadavit of complaint filed by Detective Tim Finley  reads:
"…Gerrard Exeter Robinson committed the offense(s) of violation(s) of T.C.A. 39-13-202, First Degree Murder. I further state under oath that the essential facts constituting the offense(s), the sources of my information and the reasons why this information is believable and reliable are as follows: First Degree Murder is the premeditated and intentional killing of another, the killing of another in the perpetration of attempt to perpetrate any first degree murder … TO WIT: Affiant (Finley) has probable cause to believe that Gerrard E. Robinson did premeditately and intentionally kill Natalie A. Vullo…"
The affadavit also states that the investigation led police to question Robinson when they learned he was her boyfriend. When Vullo told Robinson she was "going to start seeing her old boyfriend who is one her children's father," the argued, and that argument  excalated to a physical altercation in which Robinson choked Vullo to death. He then killed the children and attempted to destroyevidence at the scene.
Robinson was convicted on a rape charge in 1998. His last check in is listed on the registry as December 17, 2008. He was on probation and is listed as both "active" and "violent." His record indicates he was employed at an O'Charley's Restaurant.
The events surrounding the murder unfolded late Wednesday night  when Clarksville Police responding to a "welfare check" request received no response to their knocks. They subsequently entered the house, where they found three victims.
Robinson and Natalie Vullo reportedly had an argument that escalated, an after questioning, Robinson "confessed" that he then choked Vullo to death, according to Chief Ainsley. Ainsley declined to comment on the cause of death of the children due to the pending Grand Jury hearing. Ainsley thanked his officers, the Tennessee Bureau of Investigation and the District Attorney's office for their assistance in quickly solving this case.
Minglewood Principal Jane Winter has contacted all of the parents of Diamin's classmates and former classmates, and grief counselors will be made available to students and families on Monday. A memorial service will be planned for a later date.
A history of domestic violence…
According to police records, domestic violence was a part of this family's life.  Natalie Vullo and her ex-boyfriend, Paul Vernon Nelloms, both had arrest records for domestic assault against each other in multiple incidents, though all charges were dismissed. In early February, Vello was arrested for assaulting Robinson.
Nelloms, who is currently incarcerated for assault against another woman, is being granted a five-day furlough to handle funeral arrangements for the younger child,  Paul Zaccharias, his son with Vullo. Reports also indicate that Vello had been pregnant with another child by Nelloms, but no information about that pregnancy or infant was available.