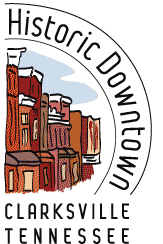 You're invited to join the merchants of Historic Downtown Clarksville for The monthly Art Walk, tonight from 5 – 8 PM
"Natural Selections", a show of recent artwork by Brad Reagan and Rachel Hall Kirk, opens this Thursday at the Downtown Artists Co-op on Franklin Street.
Brad Reagan:
"My paintings and sculpture explore a layering of multiple visual languages ranging from rusted metal to googley-eyes, and motifs ranging from floral wall-paper to masks. Through these eclectic mixtures, I want to use these cultural influences to build and invent an aesthetic that speaks to my experience growing up in the south while addressing themes such as the domestic space as well as psychological and biological desire."
Rachel Hall Kirk:
"These abstract drawings are based on insect patterns, from the objects they create such as hives, nests, and webs, to the patterns of marks found on and inside their bodies. I want the viewer to get close enough to the pieces to see the intricate detail of marks, the precision of the lines, and the vivid colors of the ink and acrylic paint. Much like a look at a wasp's nest or spider's web, close inspection of these drawings reveals objects that could only be created through a tedious, labored process."
Jennifer Snyder will be the featured artist at Hodgepodge, 125 Franklin Street.  Jennifer states, "My subject matter originates from nature.  I have always been interested in insects and birds.  Butterflies, in particular, are a passion of mine.   Butterflies have been a recurring theme in my artwork for at least fifteen years.  There is something about the fragility of something that is so beautiful that really appeals to me.  So, for this collection I focused on the idea of things that flutter or fly."
Rogate's Boutique will feature Bing Verbist.  Big has been a Clarksville resident since 1968. He studied art a APSU for five years. Bing has been owner and primary operator of Sign Art since 1981. He just recently completed 8 paintings described as "color stamping", four of which will be displayed at Rogate's this month.
ARTifacts has two art vendors to feature in the month of May.  First is Anne Kelle Designs: Ann Kelle Designs was debuted in 2006 when self-taught graphic artist, Kelle Boyd, took a little step of faith in a new field and launched a line of note cards at the National Stationery Show. Her fresh and bright designs immediately caught the attention of the industry.  A week following the debut, her designs were being presented to Target, but these days Kelle is especially excited about her new line, which can be found exclusively at ARTifacts.
Also featured at ARTifacts, Happy Trails: Of herself, Lesa McDonald, who says "I'm not an artist I just enjoy sewing and crafting.  My mom and grandmother taught me to sew when I was 7.  They made most of my clothes when I was very young then when I was in middle school/high school, I made my stuff.  I also hand embroidery but don't have time anymore so now am on to machine embroidery.  I love the Old West style clothing, way of life and Roy Rogers.  I don't like good-byes so I always wish everyone, Happy Trails.  "
Visions Metaphysical  Boutique  will host Deborah Raleigh-Chandler who works in oils; Afton Chandler, who prefers acrylics; Amanda Harrison, who also works with acrylics; and, Samantha Stephens, whose media is acrylics.  Linda also has a nice selection of hand-crafted jewelry.