Kayla Mikel, an Austin Peay State University nursing student, doesn't remember dancing with Drew Carey, the host of the TV game show "The Price is Right."
She appeared on the show as a contestant in July, during a visit to California with her family, but then three months passed before it finally aired this week on national television. A person can forget a lot in three months.
"I don't remember half the stuff I did," she admitted.
«Read the rest of this article»
This year's first ever Fright on Franklin is set to take place Saturday, October 31 in Downtown Clarksville. The family friendly Halloween event is for adults and kids of all ages and provides activities such as costume contests, pumpkin carving contests and trick-or-treating.
Festivities begin at 4p.m. Local businesses will have booths along Franklin Street from 4-7p.m. where kids can trick-or-treat safely with the supervision of their parents.
Costume contests begin at 5p.m. Costumes will be judged in several age categories including Babies, Toddlers, Kids ages 5-8, Pre-teens ages 9-12, Teens ages 13-17, Adults ages 18-54, Seniors ages 55 & up and Dogs. All costumes should be in good taste and appropriate for a family event.
Among other activities, is the Pumpkin Carving and Painting Contest. Adults and children are invited to attend the Downtown Market on Saturday, October 24 where they may purchase and decorate pumpkins to enter into the contest. The carved and painted pumpkins will be displayed throughout Franklin Street businesses where they will be judged. The Carving and Painting contest is divided into several categories: Painting for ages 1-3, Painting for ages 4-6, carving for ages 7-9, carving for ages 10-13, carving for ages 14-17, carving for ages 18-54 and carving for ages 55 and up.
This is sure to be a night of frightful fun for everyone! For more details on the event and information about being a business vendor, contact the Clarksville Parks and Recreation Office at 645-7476 or visit www.cityofclarksville.com/parksandrec.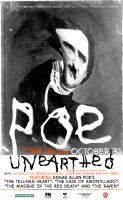 Journey through the mysterious mind of Edgar Allen Poe this Halloween. Saturday, October 31st, the Roxy Regional Theatre presents several tales from Poe's anthology.
Descend into the macabre madness of murderers, merry-makers, and haunted souls described in grotesque detail by a master of language. Jay Doolittle and three accomplices will bring to life poetic favorites such as "The Cask of Amantillado", "The Masque of The Red Death", "The Tell-Tale Heart", and "The Raven".
This special performance will be open to the public only on October 31st at 2pm and 8pm. Tickets are $15 for adults and $10 for kids 13 and younger. Purchase online at www.roxyregionaltheatre.org, or call (931) 645-7699 during regular box office hours (9am-2pm, weekdays).
A cornerstone of entertainment in historic downtown Clarksville, the Roxy Regional Theatre delivers live professional productions with skilled and experienced actors from across the United States. Roxy Regional Theatre is located at 100 Franklin Street.
The First Elk Hunt in 150 years  was held in Tennessee on October 19th-20th

CARYVILLE, Tenn. – The first-ever managed elk hunt in Tennessee has come to a close on just its second day as the fifth and final elk was harvested by Franklin resident Tami Miller late Tuesday afternoon at the North Cumberland Wildlife Management Area.
Miller etched her name into the record book with four other sportsmen who had harvests on the opening day, Monday. Miller's elk was a 5×6 (5 antler points on one side, 6 on the other) with an estimated weight of 700 pounds.
Charles "Chuck" Flynn from the Rockford community in Blount County was confirmed as the first person to legally harvest an elk in Tennessee in almost 150 years. The life-long sportsman made his second shot attempt from about 100 yards shortly after 7:30 a.m. (EDT) as the elk stood on the edge of an open field. The elk field dressed at 520 pounds. Two other hunters, Craig Gardner of Parrottsville, and Ronald Woodard of Oak Ridge quickly followed with their harvests in an approximate span of 30 minutes. «Read the rest of this article»
TROY, Al. – Heavy rains caused the cancellation of the Troy Invitational final round, Tuesday. In fact, the early morning rain never allowed the final to even begin.
As a result, the Lady Govs were unable to build on Monday's second round 302 at the Troy Country Club. APSU shot 321 in the morning and finished sixth at 623. Louisiana-Monroe (607) was declared the winner followed by Troy (609).
"It would have been nice to see how we would have played today," APSU coach Sara Robson said. "Monday's second round just showed the potential we have."
«Read the rest of this article»
Kings Konnection announces the state-wide search for the next Mr. Tennessee.
Nashville – Kings Konnection, a national male competition system, has begun the state-wide search for the next Mr. Tennessee. The Competition, that is set to take place January 31, 2010 at Tennessee State University's Humanities Building, will promote scholarships for education or to pursue entrepreneurial endeavors. The winner will receive $1,500 along with other prizes and trophies.
The idea of the Mr. Tennessee Competition was created to advance educational and professional opportunities for men within the state of Tennessee and will provide scholarships allowing the participants to achieve their educational, career and personal goals. The competition is open for men aged 18-27 of all races, ethnicities, religious affiliations and origins. «Read the rest of this article»