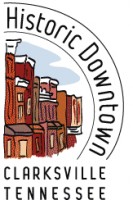 You're invited to join the merchants of Historic Downtown Clarksville for The monthly Art Walk, on April 1st from 5:00 pm – 8:00 pm Kendall Welsh from ARTifacts sent us this information about April's artistic extravaganza.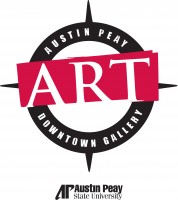 Four diverse young artists will bringing their work to the Austin Peay Downtown Gallery in April for a month-long group exhibit. The show, which will feature APSU art alumni Janelle Costello, Caroline Tuzeneu, Sam Matthews and William Arnett Gentry, opens with a reception from 5 to 8 p.m. on April 1, and it will run through May 1.
The show will feature startlingly original work, such as Costello's diorama-like photography collages that depict surreal scenes of imagined narratives.
"The intent of this body of work is to invite the viewer to temporarily escape the mundane by accentuating the beauty of make-believe," she said. «Read the rest of this article»
Nothing is more heartbreaking than to look in the face of a hungry child but hunger is a reality here in Clarksville and Montgomery County. On May 8, 2010, the Clarksville Association of REALTORS® will be hosting a fundraising event to help alleviate some of this tragic problem. CAR will again be partnering with the F.U.E.L. Ministry (Full of Emmaus Love) to provide food for our hungry school children.
"F.U.E.L. is a food subsidization program designed to feed children whose only food source may be the food they receive at school. All across America, children are going without food every weekend. This means that for up to 67 hours each weekend, school aged children are going without food. Most of these children are on state assistance; however, the food is not getting to the kids. «Read the rest of this article»
With his wife Donita and daughter Heather at his side, Mayor Johnny Piper announced today that he will not seek re-election for a third term as Mayor.
"After much prayer and consultation with my family and close friends, I have decided not to seek re-election as Mayor of Clarksville," said Mayor Piper.
«Read the rest of this article»


Austin Peay State University's baseball team will host Middle Tennessee in a 6 p.m., Tuesday non-conference tilt at Raymond C. Hand Park – its last home contest before a 13-day, eight-game road trip.
Austin Peay (13-10) has enjoyed a successful season so far at home – posting a 12-4 record, including a 2-1 Ohio Valley Conference series victory against Murray State last weekend.
«Read the rest of this article»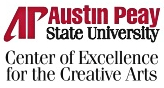 The Austin Peay State University Center of Excellence for the Creative Arts, in partnership with the Customs House Museum, will present the independent documentary film "Bleacher Boys" at 2 p.m., April 3 in the Clement Auditorium on the APSU campus. Following the film, audience members will be able to ask questions of the director, Karen Hunter. This event, which is part of The Southern Circuit Tour of Independent Filmmakers, is free for Austin Peay students and the general public.
"Bleacher Boys" is a story of five men who shared a common dream as boys: the dream of growing up and playing Major League Baseball. Five men, each of whose dreams were dashed at an early age due to blindness. Five men, whose stories differ in detail, yet share that one common element. Their stories unfold in chapters like the innings of a baseball game with them sitting in the bleachers. Each inning becomes a chapter from their lives as they relate the hardships of overcoming the painful reality of never seeing again, to the struggle to create a new dream. All are masterful storytellers whose tales become easy for us to identify with and whose perseverance we can admire.
«Read the rest of this article»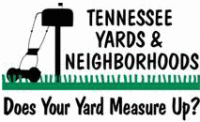 The Tennessee Yards and Neighborhoods program is conducting a Home Landscape Workshop to help homeowners create attractive and healthy yards by working with Tennessee's environment rather than against it.
The Home Landscape Workshop will be held in Clarksville, TN. on Saturday, April 10, 2010. The six-hour workshop will begin at 8:30 AM and will be held at the Montgomery County Civic Hall, 350 Pageant Lane (near public library). The class is limited to 25 participants. The cost is $35.00 per individual, $50.00 per couple. Fees cover program costs only. The deadline for registration is April 7th, 2010.
To register, contact the Montgomery County Extension Office at (931) 648-5725 or
Tennessee State University, The University of Tennessee, USDA and County Governments Cooperating. The Agriculture Extension Service offers its programs to all persons regardless to race, color, national origin, sex, age or disability and is an Equal Opportunity Employer.
Written by U.S. Army Staff Sgt. Jimmy Norris Task Force Rakkasan Public Affairs Friday, 26 March 2010 01:18
KHOST PROVINCE, Afghanistan – Coalition forces and Afghanistan's National Directorate of Security took a leap forward in strengthening rule of law in the country's eastern provinces, March 25, with the initiation of the NDS embed program at Forward Operating Base Salerno.
The embed program, which kicked off with a site survey by NDS officials, members of the 3rd Brigade Combat Team, 101st Airborne Division, and Task Force Paladin, marked the first time Afghanistan's prosecutors would establish a permanent presence on a U.S. military installation.
The result of the program, said Capt. Jill Glasenapp, provost marshal for Task Force Rakkasan, should mean "a stop to the revolving door of detainee operations." «Read the rest of this article»

The Clarksville Parks and Recreation Department's weekly recreation report provides Clarksvillians with a glimpse at the activities and events that are available from the Parks and Recreation Department for them to enjoy together as a family. This weeks highlights include:
Spring Eggstravanganza recheduled
Community Service
Spring Break
Photography Classes
Hershey's Track and Field Competition
Pitch, Hit and Run
Follow us on Social Networking
«Read the rest of this article»
Sometimes you just don't know your own strength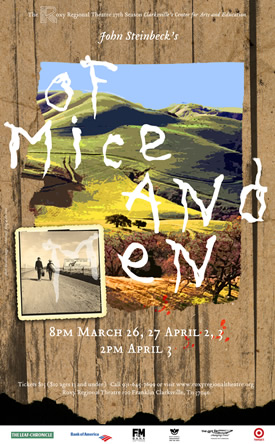 As the play begins, we are introduced to quick witted George Milton (Gili Getz) and simple minded Lennie Small (Kevin Hauver) , two friends, migrant ranch workers who are making their way through the depression era country side as they head to a new ranch where they are hoping to get work.
Stopping for the night before arriving at the ranch we learn that Lennie doesn't realize his own strength, and that he has an attraction for tactile sensation. He likes soft things, this is something that has caused problems for him in the past. We also learn that George and Lennie share a dream of owning a ranch of their own.
Dreams are a theme that echos throughout the Steinbeck's book and the Roxy's adaption of this play.
«Read the rest of this article»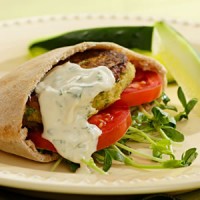 Falafel is a dough made with chick peas or garbanzo beans and lots of spices. Its deep fried and that is perhaps why this southern U.S. girl likes it so much. Falafel is pronounced FA-LAW-FULL with the emphasis on the middle syllable. Both the 'a' sounds are like the British sound in "laugh".
I had never had falafel until about 5 years ago when the children were studying Israel in school. I bought a mix from the store and made it here at home, It was very delicious and the whole family enjoyed it. Later, I was given a recipe by a friend to make homemade falafel. There is no comparison in the taste. I always make the homemade now. If you've never tried falafel and you're not very fond of trying new recipes, I suggest that you buy a mix and try it first. But if you're game for something new in the kitchen, try my homemade falafel recipe with the accompanying yogurt sauce. «Read the rest of this article»