Written by U.S. Army Staff Sgt. Jimmy Norris Task Force Rakkasan Public Affairs Friday, 26 March 2010 01:18
KHOST PROVINCE, Afghanistan – Coalition forces and Afghanistan's National Directorate of Security took a leap forward in strengthening rule of law in the country's eastern provinces, March 25, with the initiation of the NDS embed program at Forward Operating Base Salerno.
The embed program, which kicked off with a site survey by NDS officials, members of the 3rd Brigade Combat Team, 101st Airborne Division, and Task Force Paladin, marked the first time Afghanistan's prosecutors would establish a permanent presence on a U.S. military installation.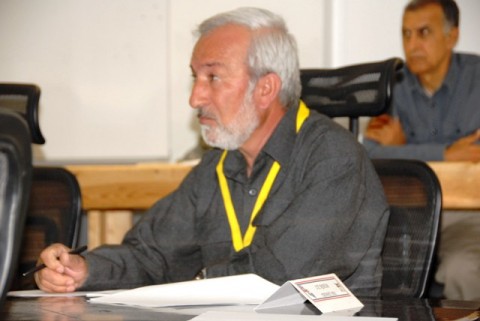 The result of the program, said Capt. Jill Glasenapp, provost marshal for Task Force Rakkasan, should mean "a stop to the revolving door of detainee operations."
Glasenapp said under Afghan law, if investigators cannot build a case within 72 hours of detaining a suspect, the detainee must be released.
In February, she said, Coalition forces detained eight suspects, but were forced to release seven.
Glasenapp said during a briefing at the start of the day's events, that having an NDS prosecutor on site will enable investigations to begin more quickly and lead to more prosecutions.
She added that FOB Salerno was chosen as the testing ground for a "90-day proof of concept program" because it receives more detainees than other areas and because Khost is a key terrain area. Key terrain areas are population centers slated by Coalition forces for the special attention either because of population or the importance of the location to a province.
The NDS embedded prosecutor, Afghan Col. Fazel Habibi, will live and work on FOB Salerno alongside TF Rakkasan's Law Enforcement Professionals, Staff Judge Advocate, Provost Marshall and Task Force Paladin's improvised explosive device investigators.
U.S. Marine Corps Maj. Jeff O'Donnell, officer in charge of Task Force Paladin in the Khost, Patika and Paktya area, said having a member of the NDS at FOB Salerno will help greatly in fighting the threat of IEDs – a threat O'Donnell said kills more Afghan and Coalition troops than any other weapons system.
"Just as important as disarming the bomb itself is collecting that evidence so that we can actually target the bomb makers," O'Donnell said. "One of the vital aspects of having Habibi here with us is he will be integrated  with that process of pulling evidence off of a crime scene…and processing that evidence through the [Afghan legal] system."