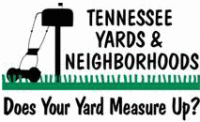 The Tennessee Yards and Neighborhoods program is conducting a Home Landscape Workshop to help homeowners create attractive and healthy yards by working with Tennessee's environment rather than against it.
The Home Landscape Workshop will be held in Clarksville, TN. on Saturday, April 10, 2010. The six-hour workshop will begin at 8:30 AM and will be held at the Montgomery County Civic Hall, 350 Pageant Lane (near public library). The class is limited to 25 participants. The cost is $35.00 per individual, $50.00 per couple. Fees cover program costs only. The deadline for registration is April 7th, 2010.
To register, contact the Montgomery County Extension Office at (931) 648-5725 or
Tennessee State University, The University of Tennessee, USDA and County Governments Cooperating. The Agriculture Extension Service offers its programs to all persons regardless to race, color, national origin, sex, age or disability and is an Equal Opportunity Employer.