Yesterday was Memorial Day, and it took me a while to digest all that I saw and heard at the three Memorial Day remembrances and ceremonies I attended this weekend.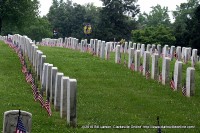 People enter military service for many reasons, some are looking for a job or career, some working towards their education, and some join up out of a pure and unadulterated love for their country. No matter the reason they joined, they all may be called upon to make that ultimate sacrifice.
When the unthinkable happens the family of the service member are left paying a price of their own. Mothers have lost their sons, wives their husbands, children have lost one of their parents. This leaves a hole in each of their lives that takes a long time to fill; eventually the love that remains will expand to moderate their grief, as it is with the death of any loved one.
Patton said something that applies especially on Memorial day, "It is foolish and wrong to mourn the men who died. Rather we should thank God that such men lived."
We should all take time to remember the lives of these men and women who gave all they had to ensure that we would be allowed the freedom to do so. We should recognize and support the soldiers who still are out there standing in harms way.  For most of the public this is something that is done once per year, on Memorial Day.
For the families, friends, and fellow service members; remembering those who died serving our country, and those who still do is something that we do every single day.
Vietnam Veterans of America Memorial Day Vigil
The Clarksville-Montgomery County Memorial Day Ceremony
The Fort Donelson Memorial Day Ceremony