Jammin' in the Alley Concert to feature Tina Brown- Friday, July 16th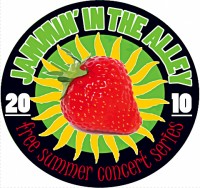 The City of Clarksville together with U.S. Bank will soon be Jammin' in Strawberry Alley once more.  Join us on Friday, July 16th for Jammin' in the Alley's third year in downtown Clarksville.
This month's free concert features the Tina Brown.  This New York native has quickly become a Clarksville favorite performing at various events around town, to include our recent July 3rd Celebration at McGregor Park.   Tina Brown has also performed all over the mid-South to include blues festivals, on Beale Street, and has even opened for Earth, Wind, & Fire and Gladys Knight in Europe!
In addition to the live music, downtown restaurants will offer outdoor dining to Jammin' in the Alley patrons. The concert begins at 7:00pm, but you may want to come early and claim your spot as we expect a large crowd.  Come ready to eat, dance and have fun!
Strawberry Alley will be closed to through traffic in front of City Hall starting at 1:00pm on the day of the event.  US Bank's and Regions Bank's drive-through and City Hall parking lots will be accessible.
Jammin' in the Alley takes place the third Friday of every month through October.
For more details on Jammin' in the Alley, please contact the Clarksville Parks and Recreation at 931-645-7476 or visit www.parksafterdark.com.