With school in session in many districts across middle Tennessee, the pressure is on for students to get good grades, make friends and be involved in various activities.
Consequently, students are faced with many challenges, and parents have to be more than simply parents. They must act as a performance coach to help their children achieve their goals.
Unfortunately, this is where some parents get stuck.
Dr. Gregg Steinberg, professor of health and human performance at Austin Peay State University, will appear on WSMV's new television show, "Better Nashville," at 1:00pm, Tuesday, August 31st to discuss the tools parents need to help build emotional and mental toughness in their children.
The TV interview will be based on information from his book, "Flying Lessons: 122 strategies to equip your child to soar into life with competence and confidence."
His book informs parents how to help their children with overcoming test anxiety, dealing with bullies at school, staying more focused in class and keeping confidence after experiencing failures.
In his career as a noted sports psychologist and motivational speaker, Steinberg helps people find their full performance potential. In addition to "Flying Lessons," he is the author of two other books, "Mental Rules for Golf" and "Full Throttle."
He also is a frequent media personality on national television networks such as CNN and the Golf Channel to speak about the mindset of an athletic champion. In October 2008, he appeared on ABC's hit competition show, "Dancing With the Stars," to analyze the mental toughness of the remaining contestants.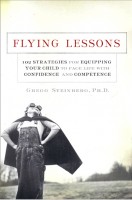 Steinberg, a faculty member at APSU for more than 12 years, provided analytical commentary for Fox News during the 2008 Summer Olympics, especially on the performance of U.S. swimmer Michael Phelps, who went a perfect 8-for-8 in Beijing to break Mark Spitz's single-Olympic Games record for gold medals.
Over the summer, Steinberg was featured in the New York Daily News, The Tennessean and Fox Television News for recent sports news coverage. He also was noted in an article discussing achievement in the July-August 2010 issue of Psychology Today.