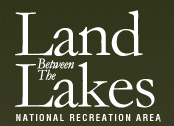 Golden Pond, KY – This is no ordinary weekend camping trip! Set up your campsite at Piney Campground's 37th Annual Camper's Fair, September 15th-19th, and enjoy a variety of activities including arts, crafts, and evening entertainment. Piney is located in Tennessee on the south end of Land Between The Lakes (LBL) National Recreation Area.
Piney is open to the public at no admission fee, Saturday, September 18th, from 8:00am-4:00pm and Sunday, September 19th, from 10:00am-2:00pm, for the open house. Displays of camping equipment, RVs, and boats will be provided by area dealers. Piney campers are invited to bring arts and crafts to display at the flea market. Campers wishing to participate in the displays need to notify Piney Campground gatehouse staff upon entering the campground. 
"The Camper's Fair is a great way to celebrate the end of summer," says Derrick Washington, Piney Campground Manager. "Campers can come out and have a good time with fellow outdoor enthusiasts. If you are considering getting into camping, it's the perfect event to check out the different types of gear available." 
Piney Campground offers scenic lakefront and wooded sites, which accommodate tents and large motor homes; sites range from primitive to full hook-up. Rustic camping shelters are available as well. Campers can enjoy Piney's hiking and biking trails, ball courts and fields, playground, and pavilion.  Picnic tables and fire rings are provided. The campground also has two boat ramps, a fishing pier, a swimming beach, and bike and camping equipment rentals. 
Campsites are available on a first-come, first-served basis. Camping shelters and a limited number of campsites are available by reservation.
Reservations are available 24 hours online at www.lbl.org or by calling 1-800-525-7077 Monday-Friday, 9:00am-5:00pm CST. 
About Land Between The Lakes
Land Between The Lakes is managed by the Forest Service, U.S. Department of Agriculture, in partnership with "Friends of LBL," to provide public lands outdoor recreation and environmental education.  We encourage visitors to review our website at www.lbl.org each season, and throughout the season, for our Calendar of Events, updates on programs and policies, safety information, and temporary trail and road closures.  Additional LBL and "Friends of LBL" information is also available on our website or by calling 1-800-LBL-7077 or 270-924-2000.