APSU Women's Golf

Edwardsville, IL – Austin Peay State University senior golfer Chelsea Harris fired a final-round 72 to run away with medalist honors, Tuesday, at the SIUE Intercollegiate presented by DoubleTree, played at Sunset Hills Country Club.
Harris finished at 149 to ease past Western Illinois' Emily Brink (153). It was Harris' third career tourney championship, including last season's Ohio Valley Conference tourney title. She has had 10 career top five finishes, including all three tournaments this season.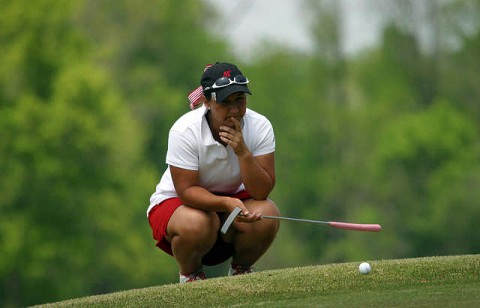 Despite Harris' stalwart play, the Lady Govs could not move up in the standings, ending in the same place they started the day, in second place with a two-day 640 (322-318). Western Illinois won the tournament with a 632 (315-317).
"Chelsea played well, although she didn't hit the ball that well during the tournament," APSU coach Sara Robson. "It was really encouraging to see her score well, even though she didn't necessarily hit it like she is capable."
The Lady Govs' fellow OVC foe, Eastern Illinois, came in third at 644, followed by future OVC foe and host, SIU Edwardsville at 678.
"It was one of those tournaments of what might have been," Robson said. "That part is discouraging. We missed on a chance to put up some good scores today, but we did bounce back and play much better than yesterday. We will use that momentum over the next two weeks to get ready for our tournament (F&M Bank APSU Intercollegiate, October 18th-19th)."
Individually for the Lady Govs, freshman Rachel Deaton finished in a sixth-place tie with a 162 (79-83) while senior Ashley Wathen bounced back from two recent subpar rounds to finish at 165 (86-79)—her 79 being the Lady Govs' only other round below 80, Tuesday.
"Ashley played much better, much more like she is capable," Robson said. "She took what she did yesterday on the last few holes and built on it. Throw out a couple of holes today and she would have had a really good score."
Junior Ashley Averitt tied for 18th (82-84=166) while senior Beth Ann Burns (84-86=170) tied for 21st.
"Rachel and (Ashley) Averitt didn't play poorly today but neither one could really get anything going," Robson said. 
Individually, senior Catie Tucker also tied for 21st (84-86) while sophomore Tabitha Beard, who had to withdraw Monday because of wrist cramps, fired an 81 on Tuesday.
"Catie played one-over (par) on the last nine holes today while Tabitha bounced back from the wrist issue of yesterday and played well today. That was good to see."