Written by By U.S. Army Staff Sgt. Whitney Hughes
86th Infantry Brigade Combat Team Public Affairs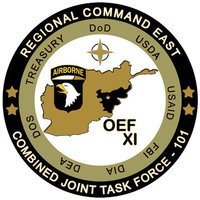 Paktya Province, Afghanistan – Soldiers from C Company, 3rd Battalion, 172nd Infantry Regiment, captured an insurgent October 7th near Yazeen Village in the Zormat District of Paktya Province.
According to Staff Sgt. Robert Brown of Henniker, NH, C Co., 3rd Bn., 172 Inf. Regt., the suspect, who is known to have emplaced several Improvised Explosive Devices in the vicinity of Combat Outpost Zormat, was captured during a village search.
"Getting this guy off the street will certainly make Zormat District a safer place, not just for us, but also for the civilians who travel the same roads we do. IEDs are not just a danger for coalition forces, they also hurt innocent civilians," said Capt. Dan Newman, C Co. commander, from Merrimack, NH.
During the operation, the Route Clearance Element they were working with also disposed of two IEDs, and found two single action rifles, an AK-47 and about 1,000 rounds of ammunition.
Afghan National Army and C Co. Soldiers began their search operation at around 4:00am to gain the element of surprise. After apprehending the suspect, the ANA unit took custody of him in order to facilitate his prosecution under Afghan law.
Sections
News
Topics
Afghan National Army, Afghanistan, AK-47, Combat Outpost Zormat, Dan Newman, IED, Improvised Explosive Device, Insurgent, Paktya Province, Regional Command East, Robert Brown, Whitney Hughes, Yazeen Village, Zormat District