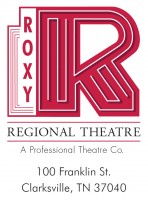 Clarksville, TN – Hold onto your seats for the original amazing race, when the Roxy Regional Theatre presents AROUND THE WORLD IN 80 DAYS during the month of November.
 
Danger, romance, and comic surprises abound as Ryan Bowie, Jay Doolittle, Lisa MacAfee, Collin Smith, Kendall Anne Thompson and Nate Washburn portray thirty-nine characters in Mark Brown's adaptation of the Jules Verne classic.
Fearless adventurer Phileas Fogg has agreed to an outrageous wager that puts his fortune and his life at risk. With his resourceful servant Passepartout, Fogg sets out to circle the globe in an unheard-of 80 days. But his every step is dogged by a detective who thinks he's a robber on the run.  
AROUND THE WORLD IN 80 DAYS runs November 5th through November 20th, playing Fridays and Saturdays at 8:00pm, with a 2:00pm matinee on Saturday, November 13th. Tickets are $15.00 (adults) and $10.00 (ages 13 and under) and may be purchased online at
www.roxyregionaltheatre.org
, by phone at 931-645-7699, or at the theatre during regular box office hours (9:00am – 2:00pm, weekdays).  
Roxy Regional Theatre
100 Franklin Street
Clarksville, TN 37040
www.roxyregionaltheatre.org
931-645-7699