APSU Women's Volleyball

Clarksville, TN – Austin Peay State University's volleyball team will play at No. 8 Illinois, Friday, in Champaign, IL, during the opening round of the 2010 NCAA Volleyball Championship, as announced by the NCAA, Sunday, on ESPNews.
Not only will this be the Lady Govs first trip to the NCAA tournament, it as well will be the first for head coach Haley Janicek, who might be the youngest head coach in the NCAA at only 23-years-old.
A former All-Western Athletic Conference player at the University of Idaho, Janicek joined the Austin Peay staff as an assistant under then-head coach Mike Johnson, in 2009, following her husband's transfer to the 101st Airborne Division. When Johnson departed, the program opted to promote Janicek to lead the program in a move that has paid off.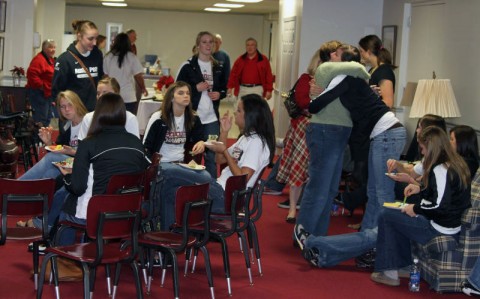 "This has definitely set the standard high, but I wouldn't say it's been overwhelming," Janicek said. "This is something we've been expecting all year to happen. I knew that if we accomplished our goal of getting better every day, this is something that was right around the corner for us."
The Lady Govs went 26-7 en route to their first Ohio Valley Conference title in 19 years, led by two All-OVC selections in senior Jessica Mollman and sophomore Nikki Doyle. At the OVC Volleyball Championships, Doyle put up 17 kills in the title game leading to a 3-1 defeat of host, and No. 1 seed, Morehead State.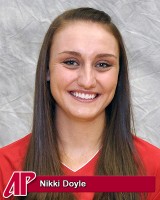 Nikki has done an incredible job," Janicek said of Doyle, who redshirted 2009 with a shoulder injury. "She has taken the time to get better and become a more consistent volleyball player. For a kid that hasn't been in a lot of pressure situations, she's shown that she can get the job done."
Doyle was named the tourney MVP, while senior Sarah Alisaleh and junior Illyanna Hernandez also were named to the all-tournament team.
"Mollman and Alisaleh have done an incredible job as seniors for this team," Janicek said. "They've led this team from the beginning. Illyanna has climbed the ladder and gotten a lot better as the season has progressed."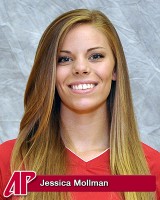 The championship and NCAA tournament appearance are even more significant for a program that has seen plenty of ups and downs over the past decade. When this senior class came on board in 2007, the reloading occurred; leading to three-straight 20-win seasons, but also seeing three different head coaches emerge during the impressive run.
First it was Jenny Hazelwood, who led the Lady Govs in 2007-08 before moving to her alma mater, Mississippi State. Then it was Johnson, who left for Xavier last summer, before it became Janicek, who literally walked off the street to become APSU's assistant coach during Summer 2009.
As the coaches came and went, the maturity of this team grew immensely as the team dealt with the adversity. It hardened their resolve to bring home the hardware.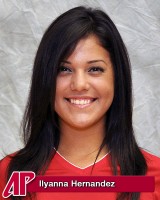 "None of us have ever experienced this before," Hernandez said. "We knew that if we were going to do it, this would be the year. We all wanted it so bad and our team chemistry has been great and we've gotten better all season. We worked so hard this year and it definitely paid off."
Looking ahead to Illinois (22-8), the Lady Govs will face a stiff challenge. The Illini posted a 14-6 BIG TEN record, in a league that put a eight teams in the NCAA Tournament. Austin Peay, however,  has only one goal in mind; to be one percent better on each play of each set.
"We're really excited and it will be a good opportunity to play in front a good crowd in a good environment," Janicek said. "It will be a good match.
"Our priority is to pay no attention to the number by their name. If we go in there with the right mindset, we can beat that team."
Additional photos can be found at letsgopeay.com