Written by U.S. Army Staff Sgt. Ryan C. Matson
Task Force Bastogne Public Affairs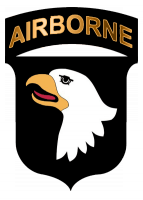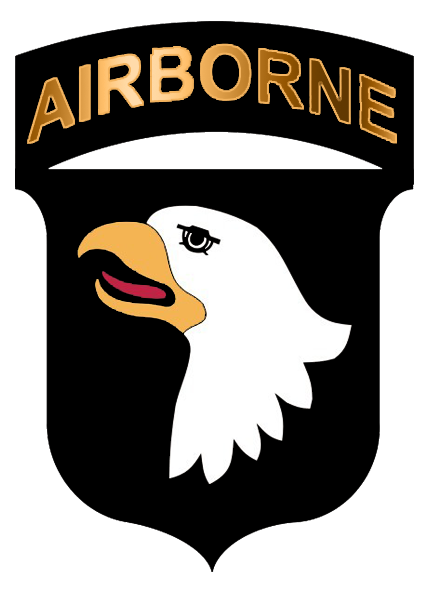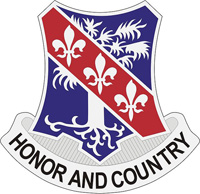 Nangarhar Province, Afghanistan – He grew up on his father's farm in Mansfield, MO His father was a Marine. His grandfather was a Missouri farmer and a Soldier, as was his great-grandfather.
His name is U.S. Army Staff Sgt. Robert Pharris. He's a member of the Khogyani District Agricultural Development Team attached to Company D, 1st Battalion, 138th Infantry Regiment. He believes he was destined to be a farmer and an American Soldier.
"My grandfather was a farmer who fought in World War II, and my great grandfather was a Missouri farmer who fought in World War I," Pharris said. "My dad served in the time that fell between Korea and Vietnam."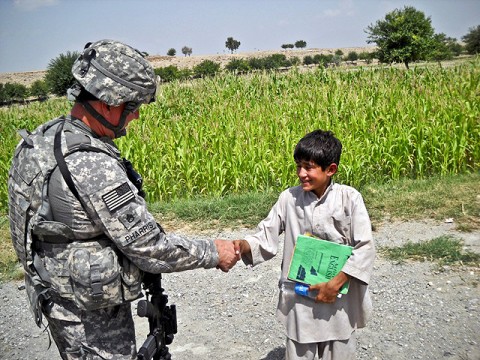 Pharris has been a lot of things in his life – a truck driver, a car salesman, a stone mason and several others – but the two things he said never left his life were working on a farm and being in the Army.
"I always knew I'd be in the Army," Pharris said. "People in my high school class all knew it, too."
It has been a winding journey for Pharris, but now, at the age of 48, his life has come full circle back to the two occupations he said he loves the most – farming and the military. Pharris works as small ruminant specialist and a liaison officer with the Khogyani District ADT in Nangarhar Province. The 13-member team is tasked with returning the once fertile Nangarhar Province to the farming haven of yesteryear.
"This was once one of the greenest parts of Afghanistan," Pharris said of the land surrounding Forward Operating Base Connolly, a stretch of mostly barren desert and mountains. "There was so much produce here, the people exported fruits and other crops."
The once peaceful farming valley fell to the ravages of war when the Soviets invaded. Pharris said much of the land was destroyed and many farmers left the country. Now, he said, farmers in the Khogyani District are trying to hang on but barely produce enough crops to get by.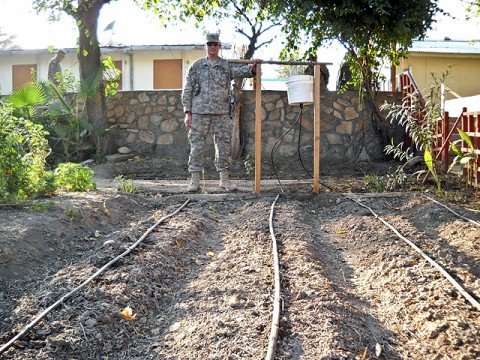 "The people here are subsistence farmers, which is a lot like my farm back in Missouri," Pharris said. He said his farm, in Seymour, MO, is a 36-acre plot on which sheep and goats graze with a half-acre garden. He said between his sheep, goats and garden, the only thing he buys at the grocery store is milk.
Because of his lifelong experience with farming and the type of farm he runs in the states, Pharris said he was pulled off a deployment mission to Iraq and selected to help Afghan farmers as part of the ADT.
"I was a week away from leaving to deploy to Iraq as part of a convoy security mission when I got word I was joining the team," Pharris recalled.
By July, Pharris was at FOB Finley Shields, outside Jalalabad.
One project the team started at Finley Shields was growing a small plot of crops using a farming method known as drip irrigation. The team planted a small garden using a two-and-a-half gallon bucket and hoses with holes in them. Water runs from the bucket into the hoses then drips out to the roots of the plants, so no water is wasted.
Pharris said when he showed the garden at Finley Shields to the Afghan Agricultural Extension Agent, the agent was "absolutely amazed" at the garden's crop output using the drip-irrigation method, which uses much less water than methods currently used by Afghan farmers.
"We want to show them while using half the water, farmers here can double the return they're getting on their crops," Pharris said.
He said convincing the farmer's to adopt basic, more effective farming techniques will be challenging, but vital to the mission's success.
"You have to understand that these people are still using farming methods from the Middle Ages," Pharris said. "That is because their whole lives depend on what they grow, and these are the methods used by their fathers, their father's fathers, and so on. If the new methods do not work, they will starve."
Pharris said if the team can convince the AEA to get the farmers to try some basic farming techniques, they can drastically increase their crop output and overall quality of life. For example, Pharris explained many Afghan farmers plant their crops by tossing handfuls of seeds in an area rather than using the common row-planting techniques. He also said the soil is being depleted because crops are not rotated, meaning the soil is not getting fresh nutrients to grow new crops. He said by using compost and other techniques, the crop output can be drastically improved.
"Our goal is to work with the AEA to work with the farmers," Pharris said. "He is currently identifying some of the larger-scale farmers in the district. If he can convince these farmers to set aside a small section of their land to try our farming methods, they will see the success of the new methods and hopefully start adapting some of them into their farming."
The ADT does not work solely with Afghans to accomplish their mission. They also work with subject matter experts from the U.S. Department of Agriculture and the U.S. Agency for International Development.
"We try to keep the lines of communication open because we're working toward the same goal," Pharris said.
One person Pharris works with is Kelan Evans, a foreign service officer with the USDA. Together, the ADT and USDA are planting 11 demonstration orchards at schools throughout the Khogany District. They will be orange and almond trees mixed with Egyptian clover to add nitrogen back to the soil and provide high quality fodder for farmer's animals.
The orchards will be, on average, between half an acre and an acre and use ditch and possibly drip irrigation. The orchards will basically serve as an agricultural component to the schools, and according to Evans, will provide the younger Afghan generation with valuable agricultural training.
"Once Staff Sgt. Pharris got here, it was easy, because we have the same goal," Evans said. "This project should get the kids interested in agriculture again, as well as get the entire community involved. It will be an ongoing project to care for the trees, so future students will learn from the faculty. We targeted middle schools, high schools, as well as some female schools because they work in the fields quite often, too."
Pharris said he considers the ADT a 'non-lethal weapons' team.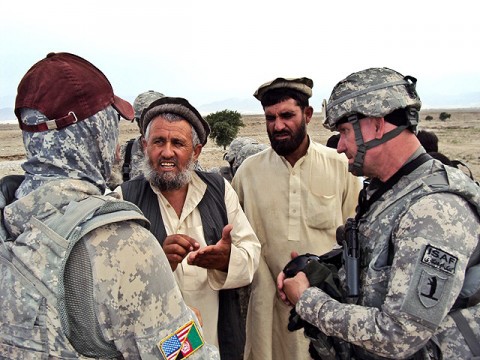 "We've been killing bad guys here for nine years now," Pharris said. "But another part of the mission is the counterinsurgency piece. That's why I think what I do here is so important."
"It's the people of Afghanistan who can ultimately win this war. If we can get people on the side of the government here, by bringing them stability through agriculture, they are going to be a lot less likely to turn that over to the insurgency."
This was not the type of mission Pharris, a career infantryman who first entered the Army in 1981, originally saw himself being part of. In 2007, his son was entering the Marines and Pharris said he felt himself missing the military. He talked with the National Guard recruiter in Springfield, Mo., and soon, at the age of 46, was back in uniform.
Now, Pharris said he is happy to be sharing his farming knowledge while serving in Afghanistan.
"I see a chance here to really make a difference," he said. "It would be interesting to come back here in ten years and see a farmer with his crops, a green valley here again, and to have someone tell them they learned that from an Afghan who was taught by an American. How cool would that be?"