Clarksville, TN – The R.J. Corman Construction Services Division was in Clarksville, TN just off of South Second Street yesterday doing routine maintenance on the short line railroad which services Montgomery County Tennessee. Periodically the ties that serve as the foundation of the track bed must be replaced. A wooden railroad tie is nine feet long, and weighs 200 pounds. They typically lasts 40 to 70 years.
In the past this replacement process was a backbreaking job which involved manually digging out the old tie, then man handling a new tie into place. Modern rail service companies utilize purpose built machinery to automate a large portion of the process, the tie extractor/inserter machine.
In order to remove a tie, the machine clamps onto the rail with a boom arm, lifts the track slightly with hydraulic jacks, telescopes the arm outward when removing the old cross-tie, and inward when inserting a new cross-tie. The Machine can also be used to transport the old tie out of the way and bring the new tie back.
If you are interested in learning more about railroad maintenance check out Railway maintenance: the men and machines that keep the railroads running by Brian Solomon. While it is not available in our local library, quite a few other railroad books by Brian Solomon are.
About the R.J. Corman Memphis Line
R. J. Corman's Memphis Line services Montgomery County Tennessee, and is more than 100 miles in length. It runs between South Union in Western Kentucky and Cumberland City in Western Tennessee, with a branch line from Russellville to Lewisburg, KY. The line has an interconnect with CSX located in Bowling Green and Guthrie, KY. The line is serviced by two modern distribution centers, one in South Union, KY, and one in Clarksville, TN.
Freight carried on the Memphis Line includes aluminum can stock, grain, fertilizer, steel, lumber, paper, chemicals, wallboard and zinc.
A major customer, Logan Aluminum, is just north of Russellville, KY. A barge trans-loading site is in the planning stage.
R.J. CORMAN RAILROAD Co.
LOCAL OFFICE:
R. J. Corman Railroad Company
145 East 1st Street
PO Box 337
Guthrie, KY 42234Telephone: 270-483-9000
Fax: 270-483-9009
24-Hour Emergency #: 1-800-772-9091
E-mail:
Principle Contacts: R.J. Corman, Chairman of Board Pete Petree, President Keith Hyatt, Division Manager
RAILROAD AUTHORITY:
Montgomery County Rail Service Authority
Montgomery County Courthouse
PO Box 368
Clarksville, TN 37041-0368Telephone: 931-648-5787
Fax: 931-553-5177
Email:
Principle Contact: Douglas Weiland, Chairman
PRINCIPLE CONNECTIONS:
CSX Transportation-Bowling Green and Guthrie, KY
AREA SERVED:
This line runs from Bowling Green through Guthrie, KY to Cumberland City, TN and on the Logan Branch, a total distance of 92 miles. It runs approximately 35 miles into Montgomery and Stewart Counties of Tennessee.
PRINCIPLE SHIPPERS:
Logan Aluminum, Precision Strip, Quebecor World, Zinifex Clarksville, Inc. and Standard Gypsum.
COMMODITIES CARRIED:
Aluminum, steel, paper, sulfuric acid, grain, fertilizer, and dry wall
TOTAL INDUSTRIES SERVED:
36
TOTAL CARLOADS:
16,480 per year
EQUIPMENT:
52 locomotives, 138 boxcars, 90 bulkhead flat cars, 12 hopper cars, 2 gondolas
BRIEF HISTORY:
RJ Corman Railroad purchased this line in 1987 from CSX Transportation.
About the R. J. Corman Railroad Group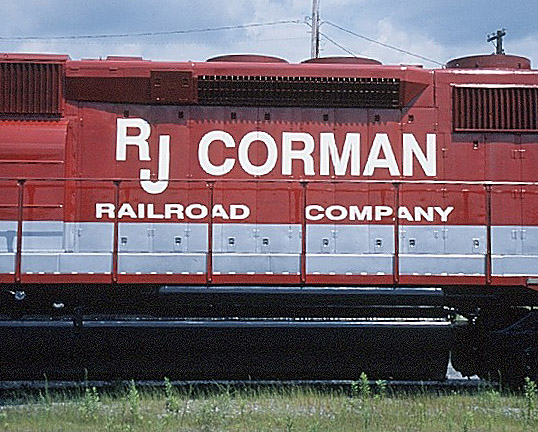 The R. J. Corman Railroad Group is a privately owned holding company for the following key operations: Shortline Railroads, Switching Operations, Railroad Construction, Track Material Distribution, Warehousing, Aviation Services, Equipment Rental, Derailment Services, Railroad Emergency Response, Gen-Set Locomotive Manufacturer. In addition they run the My Old Kentucky Dinner Train.
Sections
News
Topics
Clarksville-Montgomery County Public Library, R.J. Corman Railroad Group